England in confident mood ahead of first T20 International in Barbados
Paul Collingwood senses an upbeat mood in the England camp as they head into the T20I series against West Indies.
Last Updated: 10/03/14 9:03am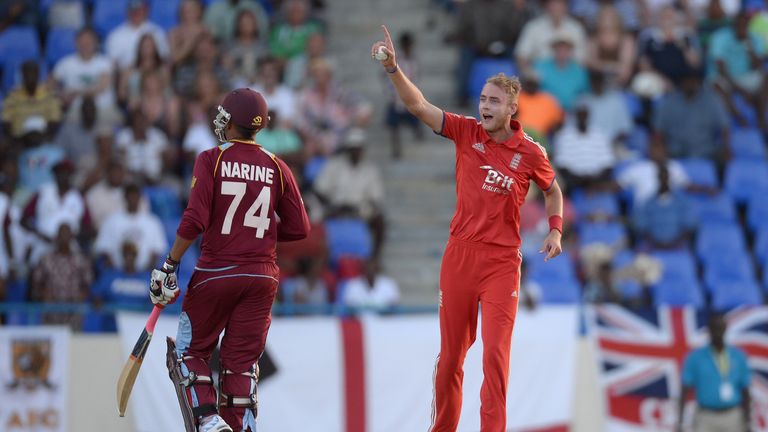 The two sides will meet in Barbados on Sunday, Tuesday and Thursday, with England on something of a high after coming from behind to win the one-day international series 2-1.
Collingwood, temporary assistant to England limited-overs coach and former team-mate Ashley Giles, has a seven-week appointment until the end of the ICC World Twenty20 in Bangladesh.
"I sensed when I first came in a bit of a lack of confidence from what's happened over the winter," said Collingwood.
"But for them to bounce back, the way Rooty [Joe Root] and Jos (Buttler) played, was exceptional.
"Lumby [Michael Lumb] can take a lot of confidence from the way he's played - he and Mo (Ali) at the top, who haven't played one-day cricket, are having a real impact on the games.
"These guys look like they're ready for the fight again. It's amazing how quickly things can turn around."
Collingwood believes England's immediate task is to strike a balance on several fronts.
That confidence must be retained, which means they cannot afford to focus on specific preparation for Bangladesh at the cost of losing in different conditions here.
"It's going to be difficult to find a strategy that will work here in Barbados and also would work in Bangladesh as well.
Confidence
"Personally, I think confidence is a key thing going into a world Twenty20 tournament.
"If you can go in with a few wins under your belt, I think that's more crucial than going in with the team that you think you're going to play."
The Kensington Oval will be no testing ground for Chittagong then.
"I think it would be quite dangerous to do that," said Collingwood.
He knows too that simply trying to reinvent the winning formula he had here at the 2010 World Twenty20, as England's only winning captain to date in a global competition, will not do.
"The game has changed a lot in those four years," he said. "You would think it has got the same principles and the same strategies - but they wouldn't work in this game.
"I think we'd all agree, certainly from one to eight, they're a lot more powerful - and you have to come up with strategies to overcome that.
"The scores people are getting these days are a lot higher.
"Back then, we went on a nine-game unbeaten run - and the top score was 149 against us.
"That doesn't happen these days. The game has changed massively - for the better as well - and we have to come up with new strategies to overcome these powerful batsmen."
Giles may yet stand or fall by whether he is able to help meet those challenges.
"I'm sure he knows it's a trial seven weeks for him ... and we all want to do the best possible for him to get the job," said Collingwood.
"I guess the one big thing Ash has been genuine about since we got here is that all the decisions he's making aren't just a short-term thing - 'let's get this seven weeks right, and I'll keep my job'.
"He's trying to look further down the line. You take your hat off (to that), because he could have easily just said 'I'll look after these seven weeks, and we'll see what happens then'."
Watch the first T20I live on Sky Sports 2HD from 6pm on Sunday