World Twenty20: The United Arab Emirates are thrilled to be in Bangladesh
United Arab Emirates captain Khurram Khan hopes his side can repeat the heroics of the 1996 team.
By Dev Trehan
Last Updated: 17/03/14 10:48am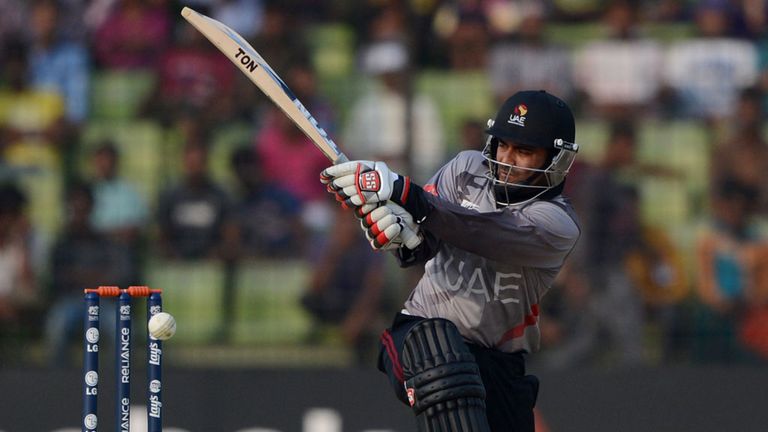 UAE's last participation in a major tournament was in the 1996 World Cup. where their only win came against the Dutch.
And Khan says a victory in one of their first Round Group B matches will be a huge achievement for the UAE national team.
"The excitement is there definitely," Khan told skysports.com. "It's what we've worked hard for in the last so many months.
"Everybody is excited and I'm excited too - we're about to play in the World Cup.
"Our first target is to win today's match and then we'll take it one match at a time.
"To be honest, if we can reach the second round of the competition that will be a real achievement for us, but just to win a match here would be massive for us.
"Even to reach here and qualify for the World T20 is huge and winning some matches here would obviously be the icing on the cake for us."
Cricket in the UAE has been boosted by hosting the recent U19 World Cup as well as the announcement that some matches in this year's Indian Premier League will be hosted in the country.
Khan admitted that there is now an unprecedented level of excitement about the sport in the Gulf region.
"I think right now is one of the best times in the history of UAE cricket," he said. "If you're playing cricket at the moment in the UAE, it does not get better than this.
"We hosted the U19 World Cup, lots of countries come over to practise and now they're coming over to play in matches as well, including the likes of Pakistan.
"There is a lot of cricket going on in the region and it is a very good time for a youngster in the UAE if they want to play cricket and pursue cricket as a career."