ICC World Twenty20: All-rounder James Faulkner missing for Australia on Sunday
Australia will be without all-rounder James Faulkner for their opening game in the ICC World Twenty20 against Pakistan.
Last Updated: 23/03/14 7:39am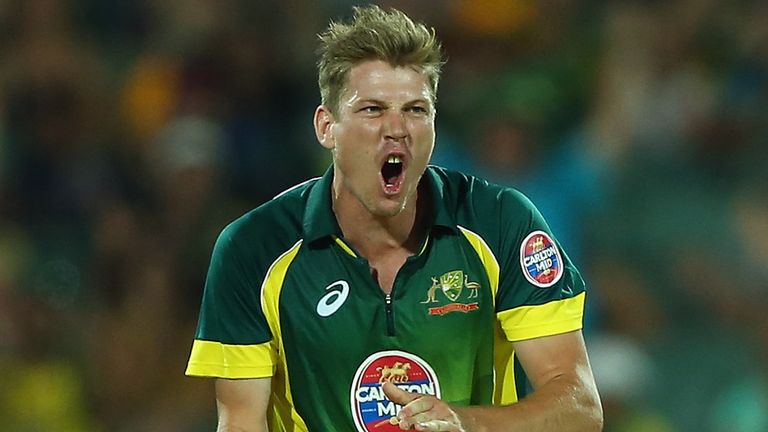 Faulkner has still not recovered from the knee injury that forced him to miss the recent tour of South Africa.
"We will just monitor him," said captain George Bailey. "He is an important player. He has certainly played a huge role for Australian sides in the T20 and one-day formats."
Australia are odds-on favourites to win the Group Two Super-10 game at the Sher-e-Bangla stadium after Pakistan's defeat to India on Friday, but Bailey is refusing to take victory for granted.
"I don't think we have any advantage," he said. "If anything, they have probably got the advantage in terms of having played here and got used to the conditions.
"We have not played at this ground yet. It is going to be fresh for us. We have to adjust pretty quickly."
Australia have only made the final of the World Twenty20 once in four attempts, losing the title to England in 2010.
Bailey believes the current squad is different to previous ones, but admits they need to be consistent to win a maiden T20 title.
Versatile
"We have got more versatility just in terms of what we can do with the ball," he said. "And we are probably a little bit more powerful with the bat, and bat a little deeper.
"You just have to play some good, consistent cricket to get to the semi-finals. And then you hope that you have carried some momentum there.
"Consistency is probably the key. There's a whole different range of ways that a game can be won and lost in T20s and it can happen quickly - it can be one catch, might be one over, might be one wicket that's taken.
"But the better team is probably going to win their game. Every team that plays at their worst is going to lose. The challenge is to make sure that the gap is not too big."
Bailey concedes it will be a challenge to tackle Pakistan's spinners, led by the prolific Saeed Ajmal, but is hopeful his batsmen will stand up to the task.
"They are a very, very strong spinning side, but I think we have got a strong batting line-up that hopefully can overcome them," he added.
"Spin plays a huge role in T20, wherever it is played in the world. But in these conditions, it tends to be match-winning. We know we are going to face lots of spin."
Pakistan coach Moin Khan said: "Whenever a team loses its first match, its chances come down. We'll have to work hard to come back. This match is very important to us if we have to stay in the tournament."
Watch Australia v Pakistan live on Sky Sports 2HD from 9am on Sunday.