Pushing boundaries
Domestic t20 cricket is back - and Sky Cricket's Richard Isaacs is ready to hit you with some great stats!
By Richard V Isaacs - @RVISkyStatto
Last Updated: 26/06/13 2:52pm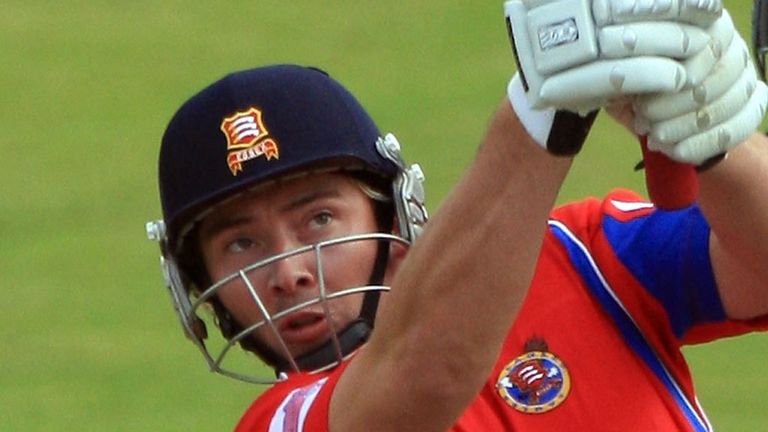 On a bright, sunny evening at the Rose Bowl in Southampton on June 13 2003 the Twenty20 Cup, as it was known then, made its debut in a blaze of fours and sixes, razzmatazz and Wurlitzers.
Since then 3,666 days have passed, 931 matches have been played and today, the eleventh season of the English domestic competition commences - where it all started - with a game between the Hampshire Royals and Surrey in the Friends Life t20. Check out the Sky Live schedule here and click here to read our pundits' preview.
So, who have been the movers and the shakers, the facts and the figures over the 10 years that have passed?
Counties Twenty20 Record 2003-2012
| | | | | | | |
| --- | --- | --- | --- | --- | --- | --- |
| Team | Played | Won | Lost | Tied | NR | Perc Won |
| Lancashire | 108 | 58 | 36 | 3 | 11 | 59.79 |
| Leicestershire | 108 | 55 | 38 | 1 | 14 | 58.51 |
| Warwickshire | 104 | 53 | 38 | 2 | 11 | 56.98 |
| Sussex | 105 | 54 | 41 | 0 | 10 | 56.84 |
| Nottinghamshire | 104 | 52 | 39 | 2 | 11 | 55.91 |
| Hampshire | 106 | 53 | 39 | 3 | 11 | 55.78 |
| Somerset | 110 | 52 | 40 | 4 | 14 | 54.16 |
| Essex | 104 | 52 | 43 | 1 | 8 | 54.16 |
| Kent | 106 | 53 | 46 | 1 | 6 | 53.00 |
| Surrey | 105 | 50 | 50 | 1 | 4 | 49.50 |
| Yorkshire | 102 | 46 | 45 | 2 | 9 | 49.46 |
| Northamptonshire | 102 | 38 | 48 | 4 | 12 | 42.22 |
| Gloucestershire | 102 | 37 | 51 | 1 | 13 | 41.57 |
| Worcestershire | 99 | 36 | 51 | 0 | 12 | 41.37 |
| Durham | 101 | 34 | 49 | 2 | 16 | 40.00 |
| Middlesex | 100 | 36 | 57 | 1 | 6 | 38.29 |
| Glamorgan | 99 | 29 | 53 | 1 | 16 | 34.93 |
| Derbyshire | 97 | 29 | 53 | 1 | 14 | 34.93 |
The Total Picture
Matches played
931
Ducks
1,027
Overs bowled
31,579.2
Golden ducks
496
Runs scored
249,321
Batsmen caught
148
Wickets lost
10,642
Batsmen bowled
2,378
Runs per wicket
23.42
Batsmen lbw
723
Runs per over
7.89
Batsmen run out
923
Strike rate
131.58
Batsmen stumped
52
Hundreds scored
46
Fours hit
22,524
Fifties scored
962
Sixes hit
6,099
Century partnerships
140
4 wicket hauls
153
Maidens bowled
221
5 wicket hauls
39
Highest Team Totals
| | | | | | |
| --- | --- | --- | --- | --- | --- |
| Score | Overs | Team | Against | Venue | Season |
| 254-3 | 20 | Gloucestershire | Middlesex | Uxbridge | 2011 |
| 250-3 | 20 | Somerset | Gloucestershire | Taunton | 2006 |
| 242-3 | 20 | Essex | Sussex | Chelmsford | 2008 |
| 239-5 | 20 | Sussex | Glamorgan | Hove | 2010 |
| 235-5 | 20 | Somerset | Middlesex | Taunton | 2011 |
Lowest Team Totals
| | | | | | |
| --- | --- | --- | --- | --- | --- |
| Score | Overs | Team | Against | Venue | Season |
| 47 | 12.5 | Northamptonshire | Durham | Chester-le-Street | 2011 |
| 67 | 14.5 | Sussex | Hampshire | Hove | 2004 |
| 68 | 16.5 | Sussex | Surrey | Hove | 2007 |
| 68 | 17.5 | Gloucestershire | Hampshire | Bristol | 2010 |
| 72 | 14 | Kent | Hampshire | Southampton | 2011 |
Highest Individual Scores
| | | | | | | | | |
| --- | --- | --- | --- | --- | --- | --- | --- | --- |
| Score | Balls | 4s | 6s | Name | Team | Against | Venue | Season |
| 152* | 58 | 10 | 16 | GR Napier | Essex | Sussex | Chelmsford | 2008 |
| 141* | 70 | 14 | 6 | CL White | Somerset | Worcestershire | Worcester | 2006 |
| 124* | 69 | 14 | 4 | MJ Lumb | Hampshire | Essex | Southampton | 2009 |
| 119 | 52 | 7 | 11 | KJ O'Brien | Gloucestershire | Middlesex | Uxbridge | 2011 |
| 117 | 55 | 15 | 5 | MJ Prior | Sussex | Glamorgan | Hove | 2010 |
Best bowling figures
| | | | | | |
| --- | --- | --- | --- | --- | --- |
| Bowling | Name | Team | Against | Venue | Season |
| 6-5 | AV Suppiah | Somerset | Glamorgan | Cardiff | 2011 |
| 6-16 | TG Southee | Essex | Glamorgan | Chelmsford | 2011 |
| 6-21 | AJ Hall | Northamptonshire | Worcestershire | Northampton | 2008 |
| 6-24 | TJ Murtagh | Surrey | Middlesex | Lord's | 2005 |
| 5-6 | PD Collingwood | Durham | Northamptonshire | Chester-le-Street | 2011 |
Most expensive bowling figures
| | | | | | |
| --- | --- | --- | --- | --- | --- |
| Bowling | Name | Team | Against | Venue | Season |
| 4-0-67-0 | RJ Kirtley | Sussex | Essex | Chelmsford | 2008 |
| 4-0-65-2 | MJ Hoggard | Yorkshire | Lancashire | Leeds | 2005 |
| 4-0-64-0 | Abdul Razzaq | Hampshire | Somerset | Taunton | 2010 |
| 4-0-63-1 | RJ Kirtley | Sussex | Surrey | Hove | 2004 |
Most appearances in the domestic competition
| | |
| --- | --- |
| Name | Matches |
| DI Stevens | 103 |
| Azhar Mahmood | 96 |
| JS Foster | 94 |
| MW Goodwin | 93 |
| JC Hildreth | 92 |
| JC Tredwell | 92 |
Most runs scored
Name
Team
Years
M
Inns
NO
Runs
HS
N
Avg
SR
100
DI Stevens
Kent/Leics
2003-2012
103
97
26
2209
77
31.11
135.52
0
MW Goodwin
Sus
2003-2012
92
86
11
2200
102*
29.33
122.90
2
DL Maddy
Leics/Warks
2003-2012
81
79
9
2083
111
29.75
130.67
1
SC Moore
Lanc/Worc
2003-2012
87
81
10
1981
83*
27.90
130.32
0
ME Trescothick
Som
2004-2012
64
63
5
1968
108*
33.93
161.04
2
Most wickets taken
| | | | | | | | | | | | |
| --- | --- | --- | --- | --- | --- | --- | --- | --- | --- | --- | --- |
| Name | Team | Years | M | Balls | Mdns | Runs | Wkts | Avg | RPO | BB | 4l |
| Azhar Mahmood | Kent/Sur | 2003-2012 | 96 | 1950 | 3 | 2457 | 103 | 23.85 | 7.56 | 4-20 | 1 |
| Yasir Arafat | Kent/Lanc/Sur/Sus | 2006-2012 | 74 | 1476 | 4 | 1953 | 101 | 19.33 | 7.93 | 4-17 | 5 |
| AJ Hall | Kent/NHants/Worc | 2003-2012 | 75 | 1450 | 4 | 1870 | 95 | 19.68 | 7.73 | 6-21 | 4 |
| RDB Croft | Glam | 2003-2012 | 88 | 1731 | 3 | 2015 | 87 | 23.16 | 6.98 | 3-9 | 0 |
| SJ Cook | Kent/Midd | 2003-2012 | 73 | 1531 | 3 | 1919 | 85 | 22.57 | 7.52 | 3-13 | 0 |
Fastest 50s
| | | | | | |
| --- | --- | --- | --- | --- | --- |
| Name | Balls | Team | Against | Venue | Season |
| ME Trescothick | 13 | Somerset | Hampshire | Taunton | 2010 |
| GL Brophy | 14 | Yorkshire | Derbyshire | Derby | 2006 |
| AD Hales | 16 | Nottinghamshire | Derbyshire | Nottingham | 2010 |
Fastest 100s
| | | | | | |
| --- | --- | --- | --- | --- | --- |
| Name | Balls | Team | Against | Venue | Season |
| A Symonds | 34 | Kent | Middlesex | Maidstone | 2004 |
| BF Smith | 42 | Worcestershire | Glamorgan | Worcester | 2005 |
The winners
| | |
| --- | --- |
| 2003 | Surrey Lions |
| 2004 | Leicestershire Foxes |
| 2005 | Somerset Sabres |
| 2006 | Leicestershire Foxes |
| 2007 | Kent Spitfires |
| 2008 | Middlesex Crusaders |
| 2009 | Sussex Sharks |
| 2010 | Hampshire Royals |
| 2011 | Leicestershire Foxes |
| 2012 | Hampshire Royals |