Andrew Strauss
Cricket Expert & Columnist
Ashes 2013: England batsmen piled pressure on Australia, says Strauss
England's batsmen outclassed their Australian counterparts at Lord's, says Andrew Strauss.
Last Updated: 22/07/13 6:42pm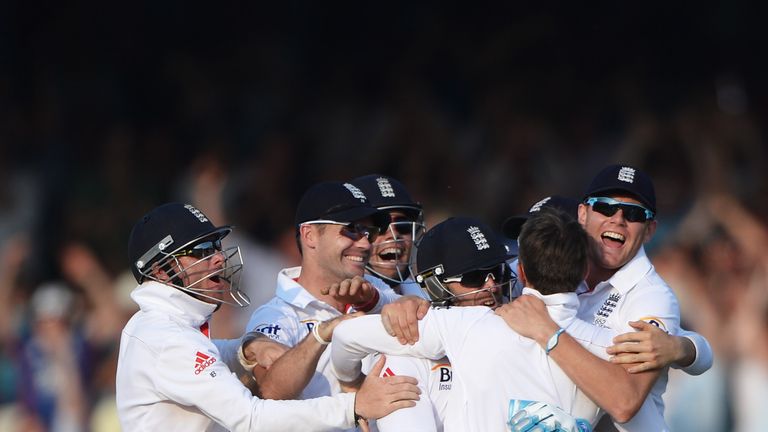 Ian Bell's first innings 109 and Joe Root's superb 180 in the second innings laid the platform for England to set Australia an unlikely 583 for victory at the start of day four.
The challenge of batting out two days always looked to be too tough a task for the tourists' fragile top order and, after a flurry of failures either side of half centuries from Michael Clarke and Usman Khawaja, Graeme Swann trapped James Pattinson in front just before the close to seal a 347 run triumph for the hosts and a 2-0 series lead.
In four innings in this Ashes series Australia have failed to pass 300 on each occasion and their failure in that department, rather than particularly spectacular bowling from England's attack, has led to their current troubles, says Strauss.
"There was quite a tight opening day to this Test match but since then it has been all one way traffic," said the former England captain.
"England played really well and there have been some really good bowling performances - Graeme Swann took nine wickets in the game and James Anderson was good again, although he didn't take that many wickets - but England got the two hundreds and that was the most important thing.
"Ian Bell's hundred and Joe Root's big hundred was the major difference between the two sides.
"England have been really, really solid. I don't think they've been 100% at their best but I don't think they've needed to be. They've applied pressure on Australia and Australia haven't had any answer to that.
"Once England have got on top of the game Australia have had no way to get back into it."
Confidence
Australia legend Shane Warne agreed with the former Middlesex man and added that he hopes the tourists can find some form and confidence with the bat ahead of the third Test, which starts on August 1.
Australia's tail have scored plenty of runs in this series, but Warne says the onus is on their openers, Shane Watson and Chris Rogers, to stand up and deliver and for the rest of the top six to back them up.
"It was nice to see some fight from the tail but what Australia desperately need are some top order runs," he said.
"They need Rogers and Watson setting the tone early and making some big runs and going on to get hundreds. Watson has had a few starts but they need a top order guy to go out and get a big score.
"If you go back to the first Test match, there were 14 runs in the game. But a lot of those runs came from the tail. Can the top order get some runs? They've had four innings, all got a score, but it's about one or two of them being more consistent and going on to get a big score.
"They're going off to Sussex for a three-day game and hopefully they can get some big hundreds to give them some confidence going into the next Test match."
Mature
One player who certainly didn't struggle with the bat at Lord's was Root. The 22-year-old answered any critics who suggested he may not have been England's best opening option by steering the hosts out of trouble when they were 30-3 in their second innings and amassing a superb, man of the match winning 180 - before grabbing a couple of wickets with his off-spin as well.
And his performance won plenty of plaudits from Strauss, who opened for England in the last Ashes series.
"There were some question marks about Root's ability at the top of the order - could he transform his form in the middle of the order to the top of the order? He's answered that in the most emphatic of styles," said Strauss.
"It was a great innings, with fantastic strokes. He looks really balanced, really composed and it was a mature innings in a lot of ways.
"When the opportunity to score came he always took them. It was a top quality innings and from a position of a little bit of danger with England 30-3 he proved he's the right man for the job."