Cricket Expert & Columnist
'I'm backing England's senior players to step up against India'
I expect both Cook and Bell to score plenty of runs in successful series, says Strauss
Last Updated: 09/07/14 9:44am
Three years after thrashing India 4-0 under the captaincy of Andrew Strauss to become the world's best Test team, England have slipped to fifth in the ICC world rankings.
On Wednesday Alastair Cook's team begins a five-Test series against India, who are one place above them in the standings, aiming to get back on track after their 1-0 series defeat to Sri Lanka.
It's a far cry from 2011, when Strauss' side – fresh from beating Sri Lanka – had the Test mace within their grasp. Here he takes up the story of a dominant summer against India…
First Test, Lord's - Eng won by 196 runs
Report | Scorecard
Overtaking India as the best Test team in the world was a huge incentive for us going into this series – it was the natural progression after winning in Australia and beating Sri Lanka. We were very confident playing against a sub-continental team in our own conditions and determined to come out on top, even more so when Zaheer Khan went off injured in the second session of the series because he was a phenomenal performer and someone I'd always struggled against; he was the one Indian bowler who could really exploit English conditions particularly well. Although they had Praveen Kumar, Harbhajan Singh and Ishant Sharma, Zaheer was their spearhead. India made us work hard for our runs but as the series progressed our batsmen got increasingly on top and our bowlers were able to exploit some weaknesses in their batsmen, against the short ball in particular.
If we see MS Dhoni take his pads off to bowl at any point this summer, as he did in this match, things will have gone horribly wrong for India. Their current attack does lack experience – of the bowlers only Sharma has played Test cricket here before – and I'm sure India will be praying for dry conditions and turning wickets.
Kevin Pietersen's 202no was as good an innings as I saw him play because India had us in a spot of trouble at 62-2 in really helpful bowling conditions. Pietersen played responsibly at the start but at the back-end he unleashed his scoring shots. It was a phenomenal effort in what was an excellent Test. We had to work hard for our victory and it was great to see Lord's packed on the fifth and final day.
Second Test, Trent Bridge – England won by 319 runs
Report | Scorecard
Many people remember India's decision to recall Ian Bell after he'd been run out in confusing circumstances on day three. Looking back, I think MS Dhoni did the right thing because while the run out was legitimate in terms of the letter of the law, I felt that Bell was walking off to tea rather than trying to steal a run. It was better for the game that India revoked their appeal and I was delighted when Dhoni decided to do that. He had every right to say that Bell, who already had a hundred by that point, was out but when you are captain of an international team you only have a limited number of opportunities in your captaincy tenure when you can either enhance and promote 'the Spirit of Cricket' or tarnish it and I think Dhoni enhanced it on that occasion.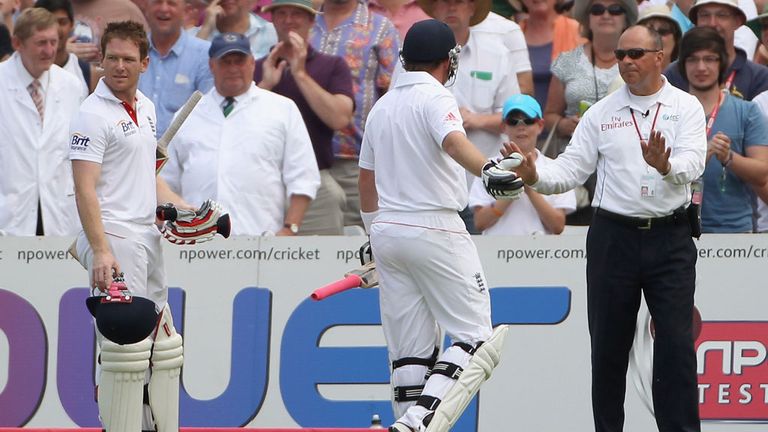 Dhoni has been a phenomenal player and leader for India; it's very hard for anyone of us to quite appreciate what he has to go through in terms of the pressure on his shoulders from an expectant nation of cricket fans. One of the best bits of captaincy I've ever seen in terms of taking responsibility and leading the way came in the final of the 2011 World Cup when Dhoni moved himself up the order and scored 91no, hitting the winning runs.
India have struggled in Test cricket away from home in recent times and we need to find out if they've still got the hunger, desire and motivation to turn up and fight. I'm sure Dhoni will be desperate to avoid a repeat of the 2011 whitewash and the captain will have to lead from the front in that regard.
The confidence within the team shone through on that first day when Stuart Broad (64) and Graeme Swann (28) rescued us from 124-8 and again when India had a lead of nearly 50 with only four wickets down and Broad ran through the rest of the batting, picking up a hat-trick. Even when we were skittled we expected to turn the game on its head and win – and we didn't just rely on one or two people to perform. It was a very special time for the team.
Third Test, Edgbaston – Eng won by an innings and 242 runs
Report | Scorecard
Alastair Cook is a phenomenal player and he underlined that at Edgbaston by scoring what remains his personal Test best of 294 after a disappointing start to the series that had produced 20 runs from four innings. The key to that innings was Cook's ability to maintain concentration and play the same way throughout – he didn't really up the gears, he just kept batting in his usual non-fussy way. That's what he needs to reconnect with now in this series and I've got every reason to expect that he will score runs in the coming weeks against an Indian bowling attack that is not going to be that menacing. He is going to be particularly determined and motivated to turn his form around because he is a class player – one of England's greatest ever batsmen – and it's dangerous to write players of that quality off.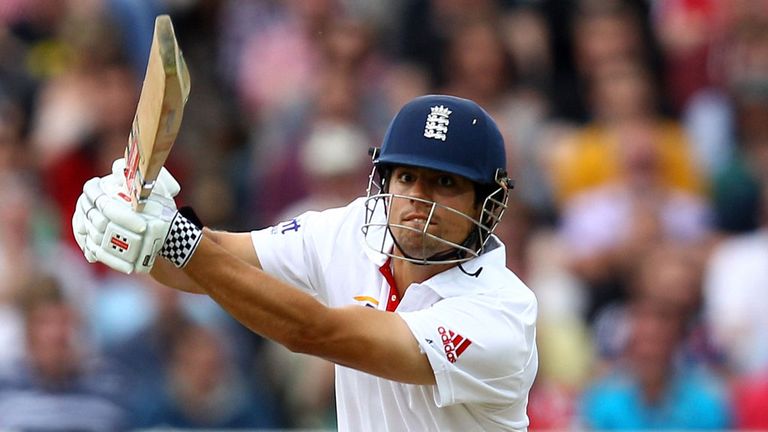 After amassing 710-7 we went on to win the Test by a big margin and claim that World No 1 spot; it was a very different feeling from the absolute joy of winning an Ashes series – it was a longer term feeling of satisfaction because it had been our goal from the moment I took over the captaincy. To achieve that was incredibly special because it had been a long time coming for English cricket. Looking back we felt that we had all the bases covered to go on and have a really good, strong, extended run at the top but unfortunately that didn't turn out to be the case!
Fourth Test, The Oval – Eng won by an innings and 8 runs
Report | Scorecard
By this stage of the tour the Indians were struggling a little bit mentally – much as England were in Australia this winter just gone. When one side gets on top, it is very hard for the other side to hit back. We turned up at the Oval determined to keep playing the same way and we put in another very, very strong performance with Ian Bell (235) and Pietersen (175) to the fore.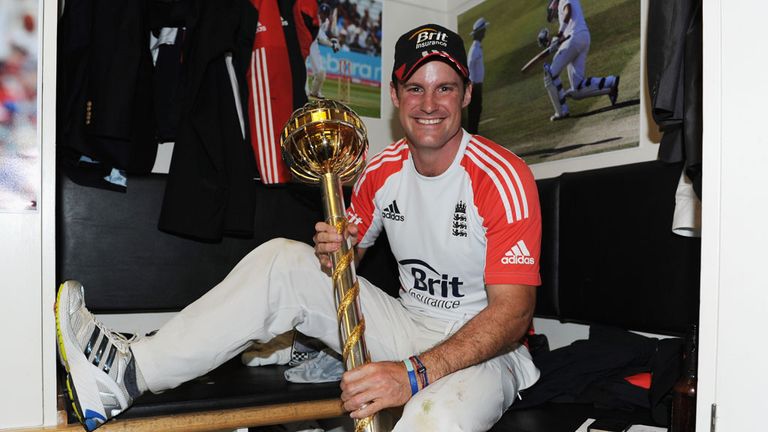 Bell's was a brilliant innings from a guy bang in form. Bell has struggled a little bit recently but it's really important to recognise that the likes of Bell and Cook are never going to score runs all the time – that's not the reality of Test cricket. But England's senior players do need to perform better in this series coming up; you can't keep relying on the younger, inexperienced players – and that goes for the likes of James Anderson and Broad as well. They need to lead from the front and make sure that the create problems for the Indian batsmen. But I expect both Cook and Bell to get plenty of runs. People will look at Bell's statistics – he has averaged under 30 in his last eight Tests – and find a problem where there isn't really one. The back end of the Ashes series was very difficult for all of the England players and, from what I saw of his innings against Sri Lanka, he's not out of nick by any means. He just hasn't compiled that big score, but I'm sure it will come.
Understandably, all eyes were on Sachin Tendulkar throughout the series as he went in pursuit of his 100th hundred for India. We thought he was likely to get it at some stage but in Jimmy Anderson we had a great weapon at our disposal to counter him. Sachin continually stalled against Anderson, while Broad had his fair share of success too. It was Tim Bresnan, though, who trapped Sachin lbw for 91 at the Oval, where he'd batted exceptionally well. I've got to say that Sachin didn't look to be in brilliant form that series – he laboured for his runs quite often; he still contributed, but not in the way he would have expected to.
This summer…
Test cricket is never simple to predict – as we saw in the Sri Lanka series – but England should win this series. India have got a strong batting line-up but it's nowhere near as experienced as last time around and, unless it turns, their bowlers could well struggle. England's biggest issue is with themselves – they are fighting a little bit for confidence and the only way to get that back is to start the series well and win.
Watch day one of the first Test between England and India live on Sky Sports 2 from 10am this Wednesday.
Michael Atherton delivers his Test series verdict on the latest Sky Cricket podcast. Download it here.