Andrew Strauss
Cricket Expert & Columnist
England v India: James Anderson and Stuart Broad deliver on day three at Ageas Bowl
England take charge of third Test
Last Updated: 30/07/14 8:31am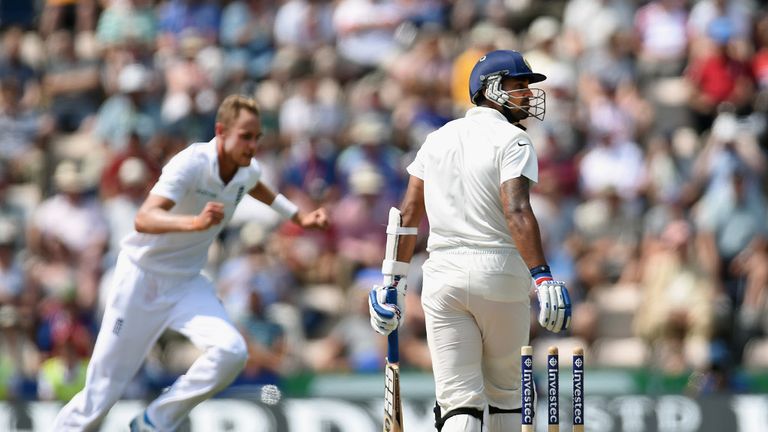 James Anderson and Stuart Broad produced 'outstanding' performances on day three of the third Test to put India in trouble at the Ageas Bowl, says Andrew Strauss.
While the hosts made the most of the flat surface on offer in Hampshire to post 569-7, in reply India succumbed to expert swing bowling from Anderson (3-52) and hostile spells from Broad (3-65) to close on 323-8, still 246 adrift of England's first innings total.
And Sky Cricket expert Strauss commended the way England's two strike bowlers upped their game on Tuesday, after both received pre-match criticism for below-par displays this summer.
England needed their senior players to do their bit in this Test – the batsmen have done it and now the bowlers have as well.
Andrew Strauss
"So far this season they've got it wrong with the new ball; they've both bowled too short," said Strauss. "But Anderson and Broad were outstanding today in not-easy conditions.
"That was a hard day's Test cricket for England: it was very hot and it was a very flat wicket; there wasn't much in it for either the seamers or the spinner, and England just kept chipping away. Scoreboard pressure helped but the two senior bowlers did their job fantastically well.
"This was the first game all summer where it swung all day long and Anderson looks like a completely different bowler when the ball is swinging. He is the king of swing and he's so hard to deal with because he can swing it both ways.
"He caused troubles all day long to both left and right handers and it was great to see him back in form.
"I thought Broad attacked a bit more in this game than he has so far in the summer, too. It may be something to do with the fact he had the likes of Chris Jordan and Chris Woakes backing him up, who England were expecting to do the holding role, so it was over to Broad to be the enforcer and I think he did that well; he spooked the Indian batsmen a little bit.
"But then again he was swinging the ball all day long and he was causing troubles with the fuller ball as well.
"England needed their senior players to do their bit in this Test – the batsmen have done it and now the bowlers have as well."
Rahul Dravid was also impressed with the work of Anderson and Broad, describing the latter's efforts as 'a marked improvement from what we've seen [from him] in this series'.
Soft dismissals
However, the India great reckons his countrymen will be ruing the careless dismissals of Ajinkya Rahane and Rohit Sharma, who both played loose shots to the spin of Moeen Ali as India stumbled from 210-4 to 217-6.
"There were some good balls – Broad bowled a good ball to get Cheteshwar Pujara out and Murali Vijay dragged one back on – but the thing that will really disappoint them is the two wickets Moeen Ali got either side of tea," he said.
"They were soft dismissals and not the smartest of cricket shots. If you look at where India is, with 46 runs to save the follow on, in the context of the game, those two wickets are huge. Two batsmen who were set, batting well, Rahani in great form, Rohit looking good in the time he was there, they'll look back at that period and hope it doesn't cost them the Test match.
"Are they playing Ali too casually? They probably haven't given him the respect he deserves. He's bowled much better in the last two Tests than he started off at Trent Bridge."
Eng v Ind: Day 3
10am, Wed, Sky Sports 2 HD
With two days to play England are well placed to push for victory at the Ageas Bowl and square the five-Test series 1-1. However, Strauss sounded a word of caution, given the lack of a world class spinner in England's line-up.
"England are in a very strong position now," he said. "But they're still going to be racing against time to take the 12 remaining wickets they need to take to win the Test match."
See whether England can take another step towards victory on day four by tuning in to Sky Sports 2 HD from 10am on Wednesday for live coverage.