Broad Q&A
Ahead of the fourth Ashes Test against Australia, Stuart Broad discusses his finest days with England, Graeme Swann's questionable singing and provides an insight into what it takes to be a winning team
Last Updated: 08/08/13 10:23am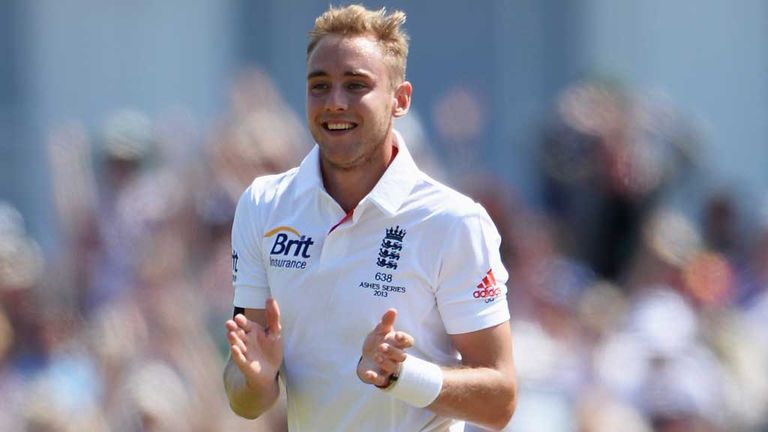 Stuart Broad has been an integral part of England's progression to one of the best Test sides in cricket. The fast bowler's mix of top-class ability and combative spirit mean he is recognised as a major threat by any opponent around the world.
On Friday, Nottingham-boy Broad will again almost certainly take that talent into battle against Australia for the fourth Test of this summer's Ashes. Having already retained the urn, England could win the series at Durham and so the stakes are high.
Broad, who has already been a part of two Ashes-winning England squads and has now taken more than 200 wickets in 60 matches, is aware of the intensity which awaits and he relishes the contest. Here, he explains what it takes to be a success at Test level while also giving insight into the England dressing room and team-mates Jimmy Anderson, Graeme Swann and Joe Root.
What is your fitness regime to achieve the level of fitness required for Test cricket?
Our training schedule can change quite a bit throughout the year. If you are going into quite a heavy Test match workload, a lot of it is based on recovery and a lot of aerobic work is done in that period. And then during non-game time, it is based around weights and trying to build up the strength in the legs. Training now is quite light and recovery-based, making sure you are fit to bowl 20 overs a day but also making sure we are fit to get through five Tests on the bounce.
Where do you think Jimmy Anderson ranks in the list of all-time bowling greats and do you think he will break Sir Ian Botham's wickets record?
Jimmy has had an unbelievable two to five years, really. To have gone past 300 wickets is very special and he is still 31 so he has got plenty of time left in him. He keeps himself fit and, with the quality of bowler he is, I have no doubt he will become England's leading Test wicket taker. He is already the all-time wicket taker if you add up all the international wickets, so I am pretty sure he will be the first English bowler to 400 wickets.
As an all-rounder, you have probably got a lot to share with Joe Root. How good do you think he is and how much of an influence have you been on him?
Rooty is very good. Most important of all, he has got a sound head on his shoulders. Being able to keep calm in international cricket is exactly what you need. He is obviously a fantastic player with that but he deals with the pressure of international cricket really well. His bowling is an added bonus and, especially in this series so far with the wickets turning as much as they have been, he could be very useful when we need to go double-spin or if Graeme Swann needs a break. I think his wickets are a bonus to the side but most importantly his 180 helped to set up the Test match at Lord's. Being 33-3, we were in trouble and he showed a calm head and he will be delighted with his contribution. We are hoping to see a lot more of him not just in this series but for many years to come.
What have been your lowest and highest points in cricket?
Probably both in Ashes series. Any injury is quite tough to take but I tore my abdominal muscle in Australia after two Test matches when we led the series 1-0, so going home from there was tough to take. I think, as a fast bowler and as a sportsman, you have to look to your next goal, though, so I got over that injury pretty quickly to get fit for the World Cup. The highlight probably has to be the 2009 Ashes win at the Oval. To take five wickets to help the side win the Test match was a massive highlight of my career and probably a bit of a kick-start to my international career, so I always look back to four years ago with very fond memories.
We are told you are a huge Nottingham Forest fan. Do you get to many of the games?
I do, yeah. We spend a lot of the winters away but I try to get to five or six games a season when I can.
What are your thoughts at the moment on Forest?
I have actually got a sneaky feeling we are going to win the Championship. I know that is thinking quite big and the Championship is a really hard league to predict but we have made some good additions to the defence and I think all we need is to get one more striker in. The fans love Billy Davies as a manager and the owners have learnt from their experience last year. I think they had three managers last season so I cannot see that happening again. I have put a cheeky £10 on Forest winning the Championship, so I hope that works!
Who is the best player you have played with for England and who is the best player you have played against for England?
The best player I have played with would be Graeme Swann. That is just because England had not really had a wicket-taking spinner for so long and he came in and showed that regular finger-spinners can take wickets in international cricket. There have been a lot of spinners take wickets who have been quite unorthodox but Swanny is an orthodox off-spinner and he has had huge success. He has brought an amazing balance to the England side in that he can take wickets on the first day of a Test match, which is quite different, so a lot of our recent success in the last four or five years has been down to the balance he brings to the team. I found Ricky Ponting the hardest to bowl to and it was a great pleasure to play against him, as he was genuinely one of the best that has ever played and a really tough competitor as well. He hated you when you were on the field but he always shook your hand and was the epitome of play hard but play fair.
Michael Holding has recently said that the current England team is the best England team he has ever seen. What are your thoughts on that and how do you think the current team compares to the 2005 side?
I suppose he is saying that because of the success we have had in the last four or five years. We have won a lot of Test match cricket so he is right to say that we are a good team. We have got guys who have scored some of the most hundreds for England in the likes of Kevin Pietersen and Alastair Cook and we have got guys who have taken a huge amount of wicket as well. Sometimes it is quite hard in England to say that we are a good side, because of our culture, but we have done really well. I do not think you can compare it to 2005, particularly, as they are slightly different eras and the make-up is slightly different. For example, with Freddie [Andrew Flintoff] they had four seam-bowlers. We have had some great success and our Test wins on the bounce against Australia highlight how strong we are at the moment.
Is there any team-work advice you can give to our readers? Is it about the right mix of characters or the leadership team?
I think one of the biggest strengths we have is how much we enjoy the success of each other. If someone gets a hundred or has a really good day, we stay with them in the changing room for 45 minutes after the day's play and just chat through the day. It builds a real strength of character in the side when everyone is enjoying the success and wanting everyone to do well. I think that has made us really close as a side and we are lucky that we are playing with guys who are just good cricketers as well. When we are in trouble, guys stand up and score runs, guys stand up and take wickets and not every England cricketer in the last 40 years can say they have played in a side that was full of fantastic cricketers.
What is the current song of choice in the changing room?
It is that Bastille one. It was on the [Sky Sports] Ashes advert. Swanny sings along to that non-stop but he puts it on repeat as well and it is wearing a little bit thin now!
Interview courtesy of AskMen.com, the UK's most popular male lifestyle website. For more great cricket content, read their full interview with Steven Finn here