Ashes: George Bailey deserves Test spot, says Mark Butcher
George Bailey's remarkable form in India should earn him an Ashes starting spot, says Mark Butcher.
Last Updated: 30/10/13 5:27pm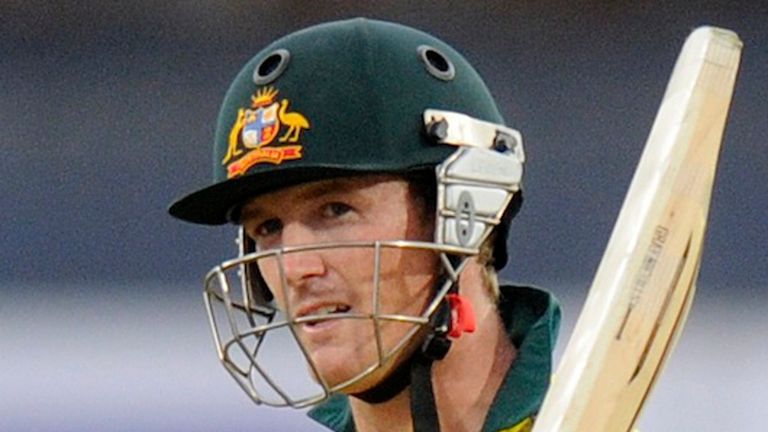 India's phenomenal run chase in Nagpur - which saw the hosts overcome a 350-plus target for the second time in this series with Australia to level the contest at 2-2 ahead of the Bangalore decider on Saturday - took attention away from Bailey's 156 off 114 balls.
However, his impressive form will not have gone unnoticed Down Under, says Butcher.
The former England batsman reckons the 31-year-old is almost guaranteed a starting spot when the Ashes commence on November 21 after racking up 474 runs at an average of 118, with a strike rate of 118, in five innings in this series.
"His batting, his captaincy and the way he's handled himself during this tour has been absolutely exemplary," said the former Surrey man.
"He does favour the leg side but he has a temperament where he doesn't get flustered or bothered by things going on around him.
He's just able to break it down into 'here's the ball coming, here's what I've got to do, here's how many runs I think we need, I'm going to go out there and do it'.
"You've got to take your hat off to him for that. He has put himself right up there for that number-six or number-five berth in the Ashes.
"In terms of his maturity and the way he's gone out there and performed in completely alien conditions, he's been superb."
Stunning
However, Bailey's exceptional knock on Wednesday, which helped Australia post 350-6, was not enough as Virat Kohli once again orchestrated a stunning chase from the hosts.
India's 351-4 was the third-highest successful run chase in the history of ODIs - their 362-1 earlier in the series is the second - while Australia now have the unwanted accolade of being in the field for the top five biggest ODI run chases of all-time.
Kohli's 115 from 66 balls further cemented his status as one of the principal limited-overs batsmen in the world and Butcher pointed to the 24-year-old's calmness as key to his success.
"It was almost inevitable but utterly ridiculous," said Butcher, on India's remarkable run chase.
"But I've been saying to anyone who cares to listen over the last 18 months or two years that this guy - Kohli - is an incredibly special talent. His aptitude for run chases is extraordinary.
"The pressure of having to count down run rates and balls remaining, knowing India have to win the match to take the series to a final game, doesn't seem to bother him.
"He plays the right shot to the right ball every single time. Every time they get behind the rate he finds a boundary, no matter what the bowlers are doing. It's stunning stuff to watch."
Partners
Butcher also had praise for India's openers, Rohit Sharma (79) and Shikhar Dhawan (100) whose stand of 178 set India on course.
While Dhawan enjoyed his ton on this occasion, with Rohit happy to rotate strike to his in-form partner, Butcher believes the teamwork between the opening pair can lead to a successful relationship.
"Australia are getting sick of the sight of Dhawan," said Butcher.
"He made a magnificent century in the test series against them earlier this year and today he toyed with Mitchell Johnson, who really did get taken to the cleaners by the left-hander.
"Dhawan's partnership with Rohit has been superb. They complement each other well."
Watch the series decider between India and Australia live on Sky Sports 2 HD on Saturday from 7.45am
ODI debate
After the contest, India captain MS Dhoni questioned whether current ODI fielding rules, which he says have enabled sides to score the mammoth totals seen in this series, were good for the game.
"Is it good that we are chasing 350? Throughout seven and a half hours we are only seeing boundaries and sixes," he said.
Butcher then had his say on the issue: "I for one have been thoroughly entertained by the run chase. However, in the back of my mind I'm thinking four fielders outside of the circle is wrong, I don't like it."
Check out the video to hear more from both men on the issue - and then let us know your thoughts via the comments box below.