Accomplished innings from Joe Root highlight of wash-out, says Mark Butcher
Mark Butcher says that Joe Root had a 'busy' and 'accomplished' innings for England.
Last Updated: 11/11/13 4:10pm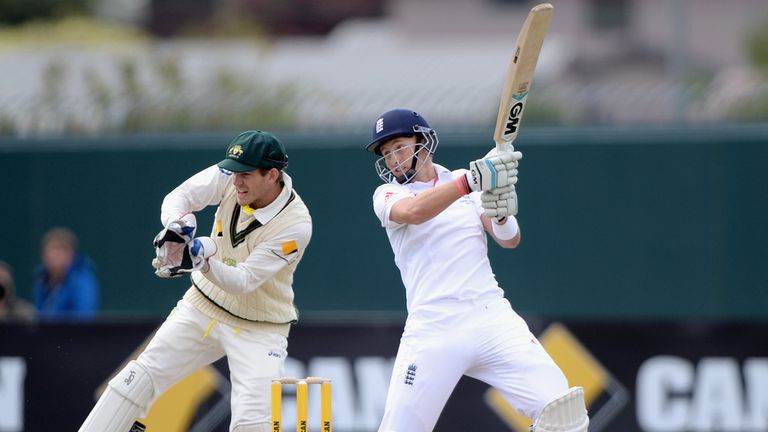 The match, as predicted, finished in a draw after numerous rain delays across the four days in Hobart but England's batsmen got some vital time on the crease on Saturday ahead of the start of the Ashes in just over ten days.
Read our full match report here
Root finished on 58 not out from 97 balls after a changed set-up of coming in the middle order at number 5 and Mark Butcher was very impressed with the 22-year-old's rounded performance
"The thing about Joe Root is that he's very, very busy," said Butcher.
"With either a seamer or spin he's always ready and able to manipulate the ball around. If he wasn't playing expansive strokes he was ticking the ball over and it was a very accomplished innings from an accomplished young player."
The Yorkshire batsman had opened for England in this summer's Ashes series win over Australia but had come under criticism for being too concerned with preventing early wickets, Butcher believes this judgement was unjustified.
He said: "I don't know whether the criticism of Root not opening well was entirely justified over the summer.
"I think as all the batsman found there was some fantastic bowling knocking around and you can't just go out there flinging the bat at everything as an opening batsman so you have to play the situation.
"He's obviously very adept to the middle order we saw in India and he's more than happy to just bat wherever he wants, keep wicket and bowl the odd spinner, he'll do the lot."
He certainly did do the lot and later in the day was forced into action behind the stumps for the final session of the match after Matt Prior suffered tightness in the left calf.
Watch the Ashes live on Sky Sports this winter, beginning with the opening Test at the Gabba. Coverage begins at 11pm on Sky Sports 2 HD on 20 November.