Sachin Mania grips India as Tendulkar begins final match
Sachin Tendulkar was given a rapturous reception as he made his way to the crease in his 200th and final Test.
Last Updated: 14/11/13 11:52am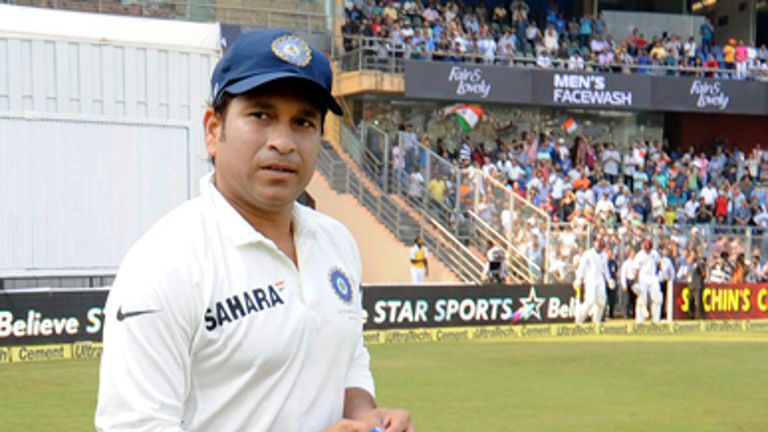 The Little Master will bring down the curtain on his glittering career against the West Indies at the Wankhede Stadium as "Sachin Mania" gripped the entire country.
The vast majority of the 32,000 in the crowd were hoping to see the 40-year-old batting early on the opening day, but captain Mahendra Singh Dhoni apologised to the fans after winning the toss and opting to bowl first.
But after the Windies were skittled for just 182 on the stroke of tea, Tendulkar's adoring fans were granted their wish when Murali Vijay gloved Shane Shillingford to short-leg.
Tendulkar entered the arena to a standing ovation and was given a guard of honour by the West Indies as he arrived at the crease to begin his 328th Test innings.
In a pre-match interview with the Hindustan Times, Tendulkar said: "The last 20 years have been marked by some of the most challenging, exhilarating, poignant and memorable moments of my life.
"The game has seen so much change over the last two decades - from advances in technology, new formats, yet the basic spirit and passion surrounding the game remains the same."
Fortunate
The coin used for the toss featured an image of Tendulkar on one side, and he was presented with a photograph of a postage stamp commissioned by the Indian government in his honour.
"We will be very fortunate if we get another Sachin," said Dhoni after the toss. "It is important that we learn from the great man."
Fellow cricketing greats Brian Lara and Shane Warne have flown to Mumbai to attend the historic Test along with a host of VIPs including Indian politicians and Bollywood stars.
Warne, who is commentating on the game for Indian television, said: "Sachin was the best batsman of my generation and it will be a privilege to be in Mumbai."
Follow live coverage of Tendulkar's farewell Test on Sky Sports 1 HD