Select a team
Internationals

Domestic

IPL

Last Game:
ICC World T20 Group 2
Tue 1st Apr
Next Game:
Sri Lanka v Pakistan Test Seri 1st Test
Wed 6th Aug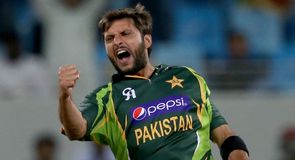 Misbah-ul-Haq and Shahid Afridi were among five players awarded a Category A central contract by the PCB on Thursday.
Latest Pakistan Headlines
Sorry, we can not display forthcoming fixtures at this time.
Features

England batted too long at The Ageas, says Warney, who wants to see another Hussain-Strauss duel...

Ian Botham and Alastair Cook himself reflect on the skipper's morale-boosting 95.

Download for views on Cook's captaincy, England's senior players and India's rising stars.

Read the thoughts and opinions of Adam Leventhal with skysports.com