Select a team
Internationals

Domestic

IPL

Last Game:
Zimbabwe v Afghanistan ODI 4th ODI
Thu 24th Jul
Next Game:
Zimbabwe v South Africa Test 2 Only Test
Sat 9th Aug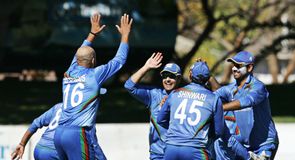 Afghanistan earned a 2-2 draw in their one-day series against Zimbabwe with a 100-run win in the final game.
Latest Zimbabwe Headlines

Afghanistan kept their one-day series against Zimbabwe alive with a dramatic two-wicket win at Bulawayo on Tuesday.

Zimbabwe achieved a record-breaking 224 for the first wicket in second ODI victory over Afghanistan at Bulawayo.

Grant Flower describes his new role as batting coach of Pakistan as the greatest challenge of his coaching career.
Sorry, we can not display forthcoming fixtures at this time.
Features

Sir Ian Botham is backing England to bounce back and square the Investec Series with India when the third Test gets underway at the Ageas Bowl on Sunday.

We look back at the highs and lows of Matt Prior's career following his decision to take a break from international cricket.

Nasser Hussain reflects on India's 'best' away Test win, the Ishant Sharma show and England's rashness.

Read the thoughts and opinions of Adam Leventhal with skysports.com