Armstrong reaction
See what's been said on Sky Sports News on the USADA's report on Lance Armstrong...
Last Updated: 11/10/12 3:39pm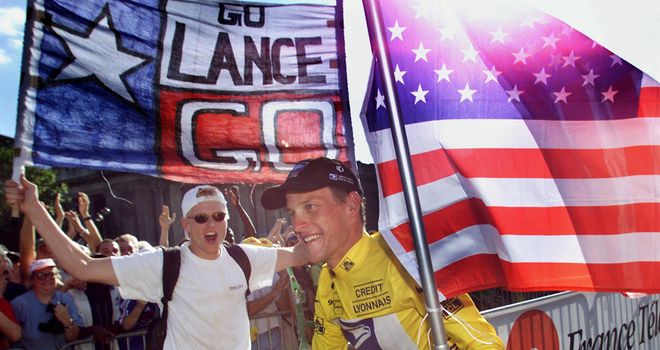 Former team-mate Brian Smith on Lance Armstrong
It's very disappointing. We've seen some hard evidence and we've seen 11 of his team-mates say they doped. I was a team-mate of Lance for a short period of time but for me he's a liar, a cheat and I think he's guilty.
I can hold my head high, I said no and fortunately I wasn't brought up in that culture. But I don't believe the riders are all to blame here - the back-up team and management need to hold their hands up too. I suspect there are people who have been given something without knowing what's in it.
You've also got to remember there was no test for the drug then - it's like a criminal being one step ahead of the law. They were very difficult to catch. But it's great this has come out. We don't have to judge on what someone has said, there's no hard evidence and you can read the pages of the dossier and decide for yourself.
Of the other 11 team-mates that have come out and said sorry and given their excuses for why they doped, well for me sorry is not good enough.
They've made so much money from cycling. Ok they say they stopped doping a few years ago and have been trying to educate people, but that's not good enough for me. I was a cyclist who was clean all my career but I don't have the big houses these guys do.
Chris Hoy on the affect this will have on cycling in Britain
It's very sad and depressing as a cycling fan. It's good that, if it has happened, it's come out in the open and shows that no one is too big to be named and shamed and we're doing everything we can to clean up the sport.
The move to change the attitude and the culture has been happening for some time. Team Sky's involvement in the Tour de France, from the first moment, has been about having a zero tolerance to this. To have icons like Bradley Wiggins winning the Tour clean that has to be the inspiration for the next generation. I think we can be proud of the Team Sky riders who have been out there doing it clean.
There are always ways to improve but I think we're doing all we can in terms of testing at the moment.
I don't think this undermines the progress of cycling this summer. Many great things have happened this year and the British team has always been adamant about its stance on doping.
Professor John Brewer from UK Anti-Doping on the Armstrong case
As we've seen from the damning report there was a comprehensive cover-up by the athletes, the support staff and the team itself and that's something which is unacceptable.
The good news that's come out of this is that athletes can't get away with cheating - although they got away with it at the time - the anti-doping agencies around the world have got procedures in place which ensure athletes who do cheat will get caught, whether in the present or past.
Whilst Armstrong is proclaiming his innocence the evidence suggests he was involved in serious violations of the World Anti-Doping Association code.
This sends the message that anybody who has any ideas of cheating in sport they won't get away with it.
Laura Trott on the Lance Armstrong era compared to today
It feels like a different era. I don't really know very much about it but the sport's completely different now. It obviously isn't a great situation for the sport and doesn't reflect well but it's like asking me about the swinging sixties, I haven't got a clue about it.
Dope testing is a massive thing for us now. We're on a 'whereabouts' system and get tested before and after competitions. You get tested so much now and they've got a much better system than they did. I'm clean and I want to win clean. And it should be that way.
Former UK Sport Director of Ethics & Doping Michele Verroken on the case
This is a worrying day because what we have before us is overwhelming evidence of a conspiracy which allowed not just one individual but many individuals to evade detection and we know the drug testing programme we've relied on to protect all our athletes.
It seems cyclists were pre-warned about drug testing taking place, they knew who to put forward for the testing first, they had opportunity to treat their own blood and urine to ensure they did not fail the test.
We wait to see what the response will be from the UCI because it may well implicate other people in the sport.
Testers have become more intrusive and invasive in athletes lives and this explains why this is necessary.
There are three individuals who are going to contest this evidence in this report so this is not the end of the story - this is the first chapter.
Mark Webber on how doping has affected his passion for cycling
I was a keen cyclist fan through the early 200s but slowly over time lost a little bit of passion for the sport. It's been quite obvious for the last few years this was going to come but the damn wall has no broken. He was the last tree in the forest they wanted to chop down, and the big tree at that.
It's good that they are trying to clean the sport up and it sends a good message to other sports that even retrospectively, regardless of what you've achieved karma will come and get you.
Fernando Alonso on Lance Armstrong's role model status
Lance was more than a rider for many people, he was an inspiration and idol. It's not easy. I think he'll remain an inspiration for many people but it's not easy to put together all these things.
Brian Smith on the future of cycling
I feel for the young riders today who will be asked 'did you take drugs?' That's the thing I feel sad about. Every cyclist who wins an event will always be asked 'what did you take?'
There was no testing for EPO in those days and people had to say: 'If I can't beat them, then I have to join them'. That was then, this is now and hopefully we've got a cleaner sport.
Professor John Brewer from UK Anti-Doping on the drugs
The Tour de France is an extreme endurance event and involves a large amount of oxygen being transported from the air the athletes breathe in to the working muscles.
EPO will help with that, it will help transport oxygen, get more oxygen to the muscles and allow the cyclist to produce more energy with less fatigue.
Meanwhile, Testosterone will help build-up the muscle strength needed for hill climbs and sprints.
Sports lawyer Andrew Nixon on whether Armstrong could face criminal charges
"I think at this stage that criminal charges are unlikely as the criminal authorities in the US have carried out their investigations and those investigations were dropped and closed down earlier this year.
"You also have the added issue of the standard of proof which is different in a criminal context than when a sporting body orchestrates proceedings, but you can be rest assured the criminal authorities will be reviewing the dossier with interest.
"A lot of these allegations relate to incidents which allegedly took place within French borders over a long period of time so you would imagine French authorities would also take an interest."