Richard Moore says Ed Clancy faces tough test in Glasgow in men's team sprint debut
Richard Moore says that all eyes will be on Ed Clancy as he steps into Sir Chris Hoy's shoes.
Last Updated: 16/11/12 9:02am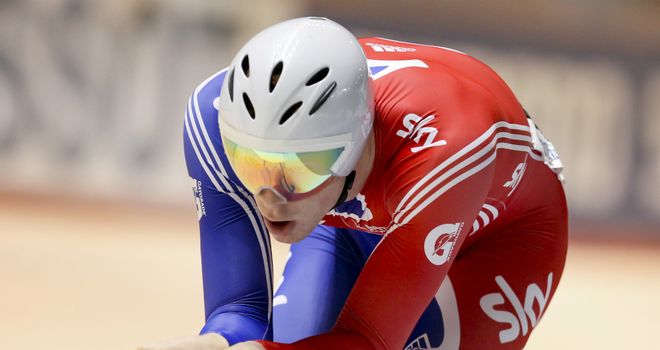 Easily the most interesting event, however, is Friday's men's team sprint. It will see the debut in this discipline of Ed Clancy, a team pursuit gold medallist at the last two Olympic Games.
Clancy has always been a hybrid: an endurance athlete on the cusp of being a sprinter. He is so quick that he inspired a change in the way GB rode the team pursuit. As man one, he would lead his team out of the start gate and remain at the front far longer than most, accelerating to race speed over the first 350 metres.
At the Olympics, as well as the team pursuit, he competed in the multi-event omnium and, in the kilo, recorded a time that would have won him the world title in 2006, '07 or '08; in the first two, the winner was Chris Hoy. Indeed, he was only two-tenths of a second behind Hoy's winning time at the Athens Olympics.
There is great curiosity about Clancy's ability in the team sprint, where he will step into Hoy's sizeable shoes as man three, with Philip Hindes and Jason Kenny - Hoy's colleagues at London 2012 - in front of him. It is a daunting prospect, not least because Clancy will be auditioning for the Hoy role in the venue that bears his name.
The big question is, will Clancy be able to hold on to Hindes and Kenny as they blast out of the start gate? The real test is the first lap; if he can hold on for the first 250 metres, he should be fine.
But he has admitted to some uncertainty, and acknowledged that it might go pear-shaped. "What's the worst that can happen?" was the rhetorical question he posed this week. "If I get dropped I ride for three laps on my own, never do the team sprint again, and go back to the team pursuit."
Before London, Clancy talked a bit about his future beyond the Games. While most pursuiters, if they are looking for a change, graduate to the road, Clancy's efforts over the longer distances haven't encouraged him to think he can make a successful switch.
"I go through phases of thinking about what I'll do," he told me during one of the team pursuit 'boot camps' in Majorca. "If I'm brutally honest, I've given the road a shot; I've had all the opportunities and chances to give it a good stab, but I still struggle with the endurance and backing up on stage racing.
"I would like to give the road a go but I wouldn't want to do it if I'm sh*t," he continued. "I'd like to be good. I grew up as an endurance rider, with G [Geraint Thomas], Cav [Mark Cavendish] and [Ben] Swift, but they're like the football players with the glamour and the fast cars and the big houses."
The lure of road racing was obvious to Clancy, but - there was a 'but'. "I'd really like to do it, but whether I've got it or not is the question that's flagged up in my own head. I wouldn't be happy doing it if I'm not good enough. I do a good job on the track. Do I want to sack off my track career to be a sh*t road pro?
"It does mess with my head now and again. I'd like to think I've got a proper gameplan for the rest of my life. But I haven't got a clue."
He was speaking in January. Now his decision to explore his potential in the shorter disciplines, and to have a go at the team sprint, might not indicate that he is any closer to a decision on his future, or what he might do in Rio in 2016.
Chances are Clancy will return to the team pursuit, perhaps with Bradley Wiggins and even, as he has hinted, Cavendish. But perhaps not. It will be fascinating to see how he gets on this weekend.