Hold that thought
Laura Trott explains why she thinks the current proposal for a women's Tour de France needs a big rethink
By Alex Williams
Last Updated: 31/07/13 3:11pm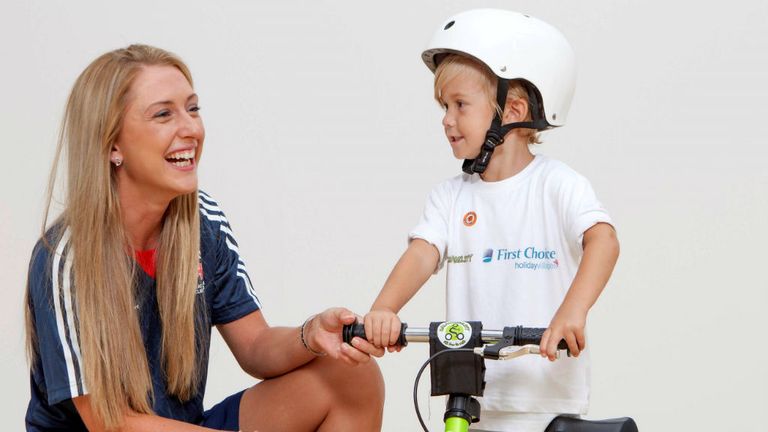 Trott was already a triple world champion by the age of 20, but even those achievements could not prepare her for just how in-demand she would be in the months following her home Games.
The 21-year-old accepts that with a higher profile comes more responsibility and, despite her age, she has recently been showing an appetite to debate the deeper issues affecting women's cycling.
Support is swelling for a female version of the Tour de France, with an online petition started by veteran rider Kathryn Bertine accumulating over 85,000 signatures and being backed by Dutch superstar Marianne Vos and Britain's Emma Pooley.
Although Trott, who this year raced some of the top road events with Wiggle-Honda, supports the idea of a women's the race, she disagrees with the petition currently in circulation, which states the event should be of the same gruelling distance and duration as the men's race.
"I agree that there should be a women's Tour de France, don't get me wrong," the omnium and team pursuit Olympic gold medallist told Sky Sports.
Grateful
"But I think the way that proposal has been put out, I don't think we should sacrifice races that we've already got.
"I think we should be grateful for what we do have and for what the sport has come from. At the end of the day, women's cycling used to be a lot smaller than it is now.
"I just feel that if they keep pushing this proposal, people aren't going to finish that race. It's going to be rubbish watching people finish in ones and twos, and then we've lost other races because we're having a race like that.
"I just think it needs to be thought through a lot more before it gets put out there."
A women's Tour, the length of which varied over the years, was inaugurated in the mid-1980s and ran until 2009.
Since then, the Giro Rosa, taking place in Italy in early July, has established itself as the most prestigious stage race in women's cycling and a female Tour running parallel to the men's would, at the very least, force that event to be rescheduled.
Trott added: "If we have it at the same time as the men's one, I just don't understand how the logistics of that would work. I haven't looked into that side of things because obviously this is just my opinion.
"And it means we [might] lose the Giro [Rosa]. There are three races in three weeks and you've got to lose one of them, and they've already got loyal sponsors there."
Trott is also keen to use her standing in the sport to encourage others to take up cycling, most recently helping launch a programme called Balanceability, which aims to help young children learn to ride bikes on holiday.
"For me, I think that's really important because that's the way I got into cycling - at a young age," she said.
"I want to try and inspire as many people as I can, and because of what I did at the Games, this is the way I think it's going to happen."
It is clear Trott takes her status as a cycling role model seriously as she adds: "It's really important to me. It's because I always had somebody to look up to in Victoria Pendleton as a female role model and Chris Hoy as a male one.
"For me, it's [about] trying to do what they did and [to inspire] people to get out on their bikes as well."
Trott will be able to relive some of the Olympic memories that triggered such exposure at the opening round of the track World Cup in Manchester this November, but she says her main goals are now the World Championships and Commonwealth Games, which both take place next year.
She said: "It would be great to win in front of the home crowd again, but I mainly use them just to qualify for the World Championships. But the Worlds and the Commonwealths I will concentrate on for sure."
London 2012 double Olympic gold medallist Laura Trott, has teamed up with First Choice to launch the innovative Balanceability programme at its Holiday Village Majorca. The course aims to help children as young as 2 ½ to learn to ride a bike whilst on holiday. For more information visit www.firstchoice.co.uk/blog/balanceability