Gatto springs a surprise
Oscar Gatto timed his late attack to perfection to win the eighth stage of the Giro d'Italia.
Last Updated: 14/05/11 4:57pm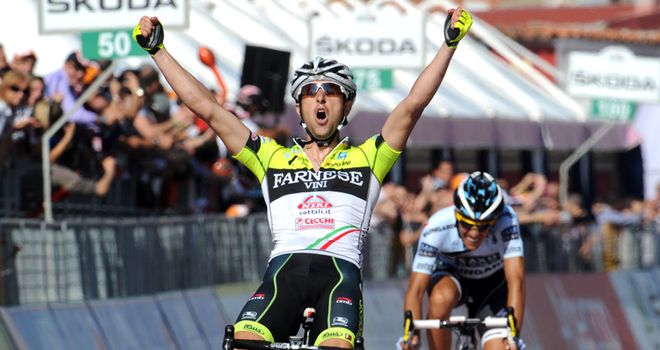 Oscar Gatto timed his late attack to perfection to win the eighth stage of the Giro d'Italia, while Alberto Contador gained some vital seconds over his rivals in the battle for the pink jersey.
Saturday's 217km run from Sapri to Tropea was expected to end in a bunch sprint but Farnese Vini rider Gatto powered away on the final, twisting climb to the finish line and denied the fast men one of their few chances to shine.
Contador (Saxo Bank Sungard) was the only rider able to respond to Gatto's move inside the final 2km, and the Spaniard's second-placed finish moved him up to fifth in the general classification.
Rabobank's Pieter Weening meanwhile, stayed top of the overall standings after ending the day inside a sizeable chase bunch.
Transition day
Much of the stage had passed relatively uneventfully after Mirko Selvaggi (Vacansoleil) and Leonardo Giordani (Farnese Vini) had broken away early in the day.
The duo's lead stretched to almost 11 minutes as they pressed down the Calabrian coastline, but was gradually hauled back as they neared the destination town, and came to an end with 7.5km remaining.
By that point the sprinters' teams had worked their way to the fore, but the stage would belong to Gatto after his brave late burst saw him outpace Contador by several bike lengths, and open up a five-second gap over the disappointed chase bunch.
After the stage, Gatto told reporters: "I've always liked finishes like this, slightly uphill and technically difficult.
"I threw away the first two years of my career but I'm starting to make up time now. I just didn't understand how much work I had to do to be a professional. I have to thank [sports director] Luca Scinto because he's helped me a lot. This stage win is for him."