Roche making name for himself
Nicolas Roche is hoping to continue to make a name for himself at the Tour de France.
Last Updated: 30/06/11 7:42am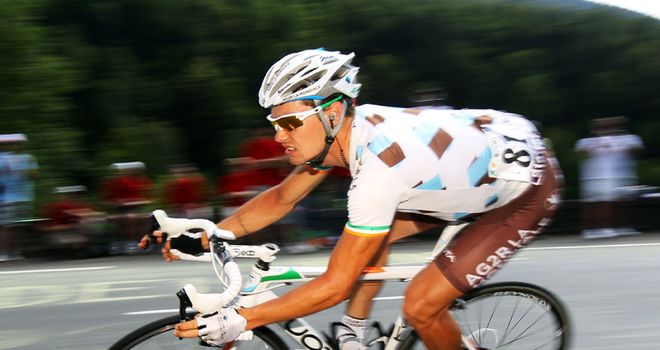 While preparing for his third Tour de France, Nicolas Roche was approached by a French radio station proposing an original and different idea for an interview.
The Irishman, son of 1987 Tour winner Stephen Roche, was asked to talk about father and son relationships in sport.
"Different?" exclaimed Roche junior.
"That's the most common question I get."
Roche accepts that it is unavoidable, but he is fast establishing himself as a major player in Grand Tours and in two appearances in cycling's biggest race he has finished 23rd and 15th overall in the general classification.
Roche, who will be 27 on Sunday, is determined to improve once again by the Tour's end in Paris this July, despite recently crashing out of traditional warm-up the Dauphine Libere.
He said: "I'm concentrating for GC (general classification), hoping one day I can get an opening to try and go for a stage as well.
"I'm hoping for a top 10. This year I wouldn't be satisfied with 15th in GC, as I was last year."
Difficult build-up
Since placing 15th last July, Roche has been bedevilled by problems which have restricted his race preparations for the Tour.
In November he suffered tendonitis, in February a torn muscle, in May he crashed at Fleche Wallonne and earlier this month he had to withdraw from the Dauphine, eventually won by Bradley Wiggins, due to multiple crash injuries he has spent the last few weeks nursing.
Roche hopes the form he had entering the Dauphine will still be present when the Tour begins on Saturday.
He said: "I've never had a proper chance to show my form.
"I did the first mountain stage in the Dauphine and was fifth, but I didn't get to the real hard mountain stage.
"I'm a bit in no-man's land. That's why I have to stay confident.
"I've no comparison to anyone racing, so I just have to keep my chin up and hope my legs are there, that I'm in top condition like I was last year.
"I've done all the Tour stages, I've done my homework and now it's just a question of having the legs on the day."
Team player
Roche provided one of the most memorable quotes of the 2010 Tour after his team-mate John Gadret refused to give up his wheel to the team leader.
Roche, who lost valuable time waiting for the team car, said at the time: "If John Gadret is found dead in his hotel room in the morning, I will probably be the primary suspect."
Relations have thawed since and Roche believes he will have the full support of his French Ag2r La Mondiale squad over the next three weeks.
He said: "I do think the team is based around me. They haven't taken any sprinters, only riders who can be good on the climbs and also guys who can give you a hand on the flat.
"It's important to be able to ride on those tricky days, not just on the climbs."
He certainly has the full support of his father.
"He's always been there when I needed him, but he's also never been there when I didn't need him," added Roche.
"He's been through every single situation I'm going through, so he can guide me.
"But cycling is not a magical sport. It's all about training and there's not a million different formulas.
"At the Tour we speak a lot more than at other races. He has a great role as a dad.
"But there are enough people around me on the team to advise me."
As for the inevitable, not at all original question, Roche has a stock response.
"I should just record an answer and press play," he said.
"Things don't change in a week or a couple of months, my answer's been the same over the last six or seven years.
"I'm still surprised people are still curious about it at this stage."
There are other occasions which Roche finds amusing.
He said: "Sometimes when I'm going around and I get introduced to someone, 'this is Nicolas Roche, the son of Stephen Roche' and the response will be 'congratulations, well done'.
"Well done for what? I haven't achieved the stuff he did."
By July 24 in Paris, people may well be more familiar with Roche junior.