Sky Sports Scholarships - Lucy Garner excited for World Championships experience
Lucy Garner expects to benefit hugely by competing in her first world senior event for Great Britain in Italy this week.
Last Updated: 23/09/13 11:45am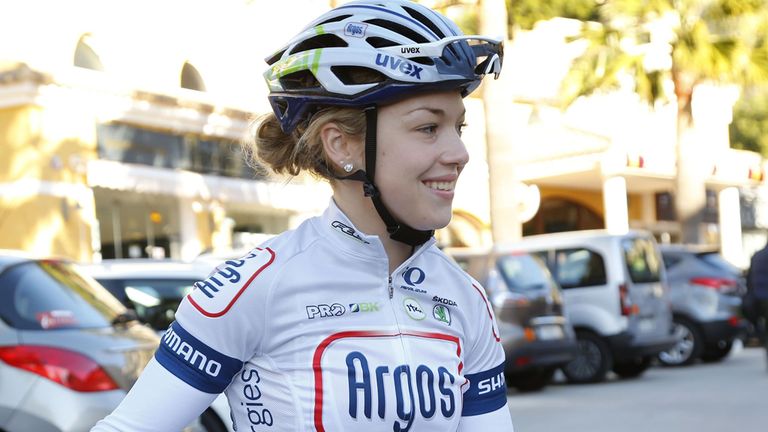 The UCI Road World Championships got underway on Sunday and Sky Sports Scholar Garner will be competing next Saturday when the Elite Women's Road Race takes place.
The World Championships will round off an impressive first year on the senior circuit for the Leicester-born rider and she is pleased with how her preparations have gone for the event.
"Last week I was in Italy where the World Championships will be," Garner, 19, told Sky Sports News. "It's been really good training and I'm just happy to have been selected for my first senior event."
A maiden senior victory came in China earlier this year and Garner admits that that the win came as something of a surprise.
"It was pretty big for me, coming into the seniors as a first year and getting a win was a really big result for me," she said.
"I wasn't expecting it at all. I was just going into each race and seeing how I would do against the best riders in the world so to come away with a win is really good for me."
The step up from competing at junior level has been tough but Garner is more than happy to make the sacrifices.
Harder
"I think really it's just the races, the distances are a lot longer and the speed, as well, it is a lot harder (at senior level)," explained Garner. "The training you do, you have to fully commit to it - the training is very hard. It has been a massive step but it's good to be doing something that I love.
"Mentally it's hard but you've got all of your teammates around and they're going through the same thing, the people that you race against, they're going through the same thing - you've all got to deal with it somehow and once you're at the finish line then you can just chill and relax."
As a junior, Garner has good memories of the World Championships having won gold in the road race in both 2011 and 2012. However, competing alongside the likes of Olympic silver medallist Lizzie Armitstead in the senior event presents her with a whole new challenge.
"I think I'm going to gain a lot from this World Championships, definitely," added Garner. "I've always looked up to Lizzie as a rider, so to actually be riding with her in a team and to be supporting her to try and get the title, it is going to be a really good experience for me.
"We're there as a team so we will aim to ride for one rider, that's usually the case. So for me, I will probably work for the first part of the race and just try and follow as much as I can and see how I do because it is going to be a completely new thing for me."