Lance Armstrong will need 'miracle' to get ban reduced, says Wada chief John Fahey
Lance Armstrong will need a "miracle" to get his lifetime ban reduced, it has been claimed.
Last Updated: 12/11/13 7:32pm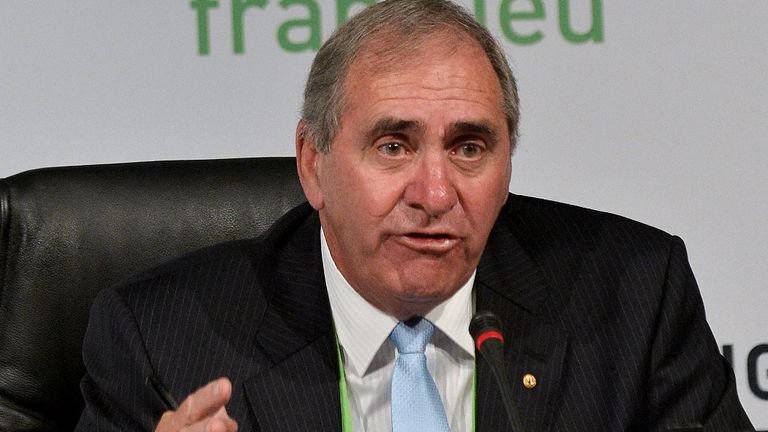 Speaking on the opening day of the World Conference on Doping in Sport in Johannesburg, Fahey said the case against Armstrong was "irrefutable" and that he considered the issue "done and dusted".
Armstrong was banned last year following an exhaustive investigation by the United States Anti-Doping Agency (Usada), which concluded in a 1,000-page report that the 42-year-old American was a "serial cheat" who was behind the "the most sophisticated, professionalised and successful doping programme that sport has ever seen".
Armstrong has since offered to testify at any future investigation into doping, promising "100 per cent transparency and honesty", but has hinted he would only do so if his punishment was brought into line with other confessed dopers who were given more lenient bans.
'Done and dusted'
However, Fahey said: "It would take something close to a miracle to change it. As far as I'm concerned, it is done and dusted.
"Armstrong did what he did. We all know what that is. He did not cooperate, he did not defend the charges that Usada put out there last year and he was dealt with in a proper process."
Armstrong's doping was finally uncovered last October after Usada secured testimonies from former team-mates, and the Texan later admitted cheating his way to seven Tour de France wins from 1999 to 2005 to chat show host Oprah Winfrey.
Usada imposed the initial lifetime ban on Armstrong and it was subsequently ratified by the International Cycling Union (UCI), whose president at the time, Pat McQuaid, said Armstrong had "no place in cycling".
Usada jurisdiction
Fahey insisted that should Armstrong's case be reopened, it could only be done so by Usada.
He added: "The only ones who can reopen [it], and it would have be a damn good reason, is Usada. We [Wada] can't, no one else can, the UCI can't.
"If he wants to have his actions looked at, then that is a matter for Usada and it would have to be an extraordinarily powerful reason as I would see it.
"To my knowledge, there has been no move [from Armstrong] to say] I want to give substantial assistance, in the understanding that if I talk to you, you might open the case again and reconsider the life ban'."
* The cost of Brian Cookson's campaign to be elected as president of the UCI was £120,000, British Cycling has confirmed. His campaign funds came from British Cycling's international relations budget and the governing body said Cookson kept costs to a minimum by travelling standard class on several trips to different parts of the world.