Tour of Britain 2014: Race to include summit finish in Wales and split final stage in London
Last Updated: 31/03/14 7:43pm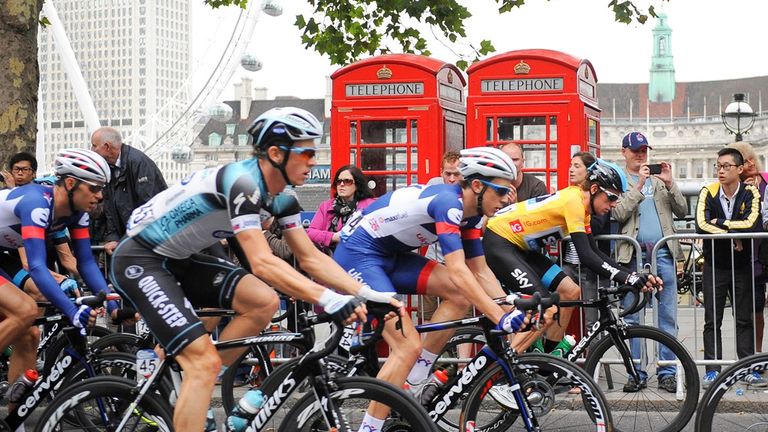 The 2014 Tour of Britain will start in Liverpool, include a summit finish in Wales and end with a split stage in London, organisers have revealed.
The race, which will be held as a second-tier 2.HC event for the first time, will visit seven new venues and be based predominantly in the west and south of Britain.
After a sprinters' stage to open in Liverpool and second stage ending on Llandudno sea front, stage three stays in Wales for what could be the decisive day.
A hilly 150km route from Newtown finishes atop The Tumble, above Abergavenny, which is also the central location for June's British Championships.
Summit finish
The 6km climb has an average gradient of 7.2 per cent, so is sure to test even the world's best climbers, some of whom were at the Tour of Britain in 2013.
Stage four starts in Worcester and ends with the race's first visit to Bristol in 15 years, before stage five takes the riders from Exmouth to Exeter via the Dartmoor climb of Haytor.
After travelling from Bath to Hemel Hempstead on stage six, the riders will tackle the longest day of the race on stage seven, a 220km marathon from Camberley to Brighton, 20 years on from the city's hosting of the Tour de France.
The eighth and final stage will be split, with an 8.8km time-trial in the morning being followed by a 10-lap, 88.8km circuit race around central London in the afternoon.
Big teams sign up
Nine WorldTour squads - including Belkin, BMC, Cannondale, Garmin-Sharp, Giant-Shimano, Movistar, Omega Pharma – Quick-Step, Team Sky and Tinkoff-Saxo – have confirmed their participation.
Race director Mick Bennett said: "With our toughest summit finish yet, an individual time trial in London and several longer stages, this year's Tour of Britain has a varied and testing route that will present opportunities to a variety of riders.
"The route will again showcase some fantastic scenery, and combine major British cities with charming and picturesque towns and villages, as well as testing climbs, all of which will make for a memorable Tour."
2014 Tour of Britain
Stage 1:   Sunday, September 7 -  Liverpool city centre circuit - 130km
Stage 2: Monday, September 8 - Knowsley to Llandudno - 197km
Stage 3: Tuesday, September  9 - Newtown to The Tumble - 150km
Stage 4: Wednesday, September  10 - Worcester to Bristol - 182km
Stage 5:  Thursday, September  11 - Exmouth to Exeter - 171km
Stage 6: Friday, September  12 - Bath to Hemel Hempstead - 203km
Stage 7:  Saturday, September  13 - Camberley to Brighton – 220km
Stage 8a: Sunday, September  14 - London individual time trial – 8.8km
Stage 8b: Sunday, September  14 -  London city centre circuit – 88.8km