Plans in place to re-launch Tour of Ireland following success of hosting Giro d'Italia
By Matt Westby
Last Updated: 12/05/14 1:32pm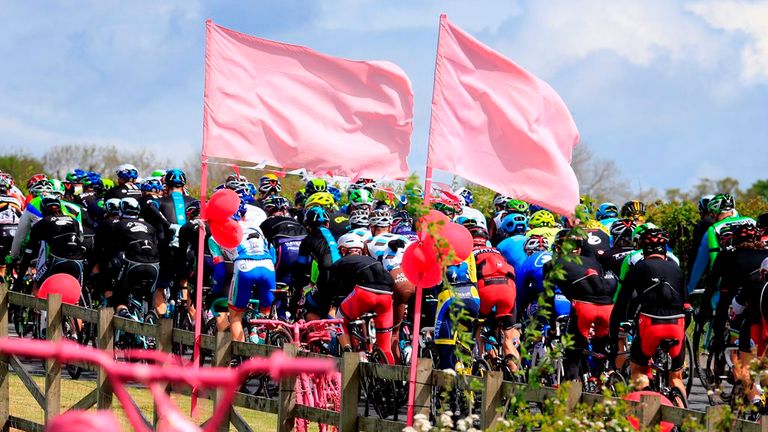 Plans are in place to re-launch the Tour of Ireland as early as next year as organisers look to capitalise on the success of hosting the start of the Giro d'Italia.
Tens of thousands of fans defied poor weather conditions to welcome and cheer on a selection of the best cyclists in the world on the first three stages of the season's opening Grand Tour.
Both Belfast and Dublin were turned pink for the weekend, while towns and villages on the north-eastern coastline ground to a halt to watch the peloton pass through.
Now, Shadetree Sports wants to make professional cycle racing on the Emerald Isle a regular fixture by bringing back the Tour of Ireland, which was held between 2007 and 2009 but then ceased to exist after the global economic crisis led to funding being pulled.
Pushing hard
Darach McQuaid, who is a founding partner at Shadetree Sports and spearheaded the bid to stage the Giro's Grande Partenza, said: "Shadetree is pushing very hard to re-launch the Tour of Ireland.
"In 2007, 2008 and 2009 there were massive crowds, but unfortunately the economic crisis hit us here in Ireland pretty badly and our title sponsor was the government, so funding from the government went away pretty sharpish.
"We have had some people [potential sponsors] on the Giro in the last couple of days who, you can well imagine, were absolutely blown away by these amazing riders and the public.
"We are hotly pursuing board members of several companies and we are very hopeful to be announcing something very soon."
It's June when the provisional 2015 calendar gets drawn up. It is not a done deal, but that deadline doesn't scare us.
Darach McQuaid
McQuaid is keen to hold the first edition of the new Tour of Ireland in 2015, meaning securing a sponsor soon is imperative given that International Cycling Union draws up next year's provisional race calendar next month.
Legacy
McQuaid, however, is confident of completing a deal imminently and confirmed that the race would visit both sides of the border and take 2.1 status, which is cycling's second tier.
He added: "It's June when the provisional 2015 calendar gets drawn up. It is not a done deal, but that deadline doesn't scare us. The status would be similar to the previous Tour of Ireland, so 2.1."
As well as creating a new race, organisers hope that staging the start of Giro will also introduce a new generation to cycling.
Stephen Roche, who won the Giro in  1987 and contributed to the bid, said: "Hopefully the legacy of this Giro will be that in ten years' time, the kids who were watching this weekend will be taking part in the Giro or a big tour themselves."