Tour de France: Peter Sagan favourite to win stage two, says Belkin coach Merijn Zeeman
By Matt Westby
Last Updated: 16/05/14 12:38pm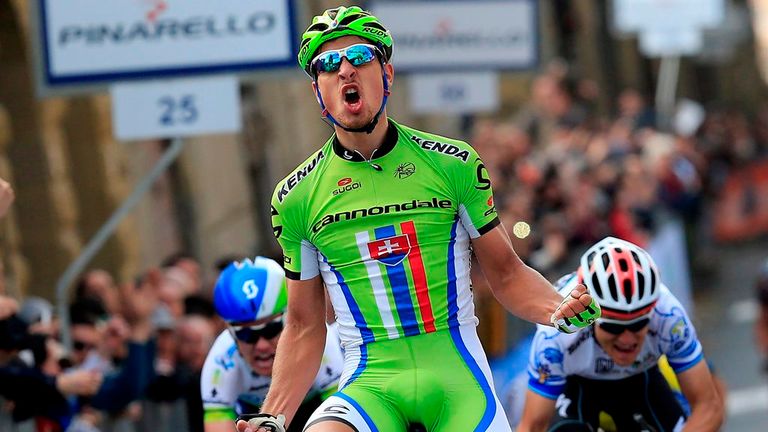 Belkin coach Merijn Zeeman believes Peter Sagan is the man to beat on stage two of the Tour de France in Sheffield.
Zeeman was in Yorkshire earlier this week to drive the route of the first two stages of this year's race, which take place from Leeds to Harrogate on July 5 and York to Sheffield on July 6.
Stage one appears suited to sprinters, but stage two contains four categorised climbs in the final 40km and is expected to break the peloton into pieces.
Sagan usually favours flatter roads, but he has also proved adept in the past on rolling routes with steep climbs and Zeeman expects him to flourish on the Tour's second day.
"I really like the route," he said. "The scenery is beautiful and the roads are both really nice and very challenging. The final part of the second day will be very hard. The climbs come very quick and there are some very steep parts, so it should be a very explosive finale.
High pace
"The pace will be high and a lot of riders will be dropped on the way into Sheffield. I would expect there to be 20 or 30 guys to be in the front, and I would think a guy like Peter Sagan would be the main favourite."
The final climb of stage two is an innocuous route through a housing estate called Jenkin Road. It doesn't have the glamour of famous Tour ascents such as Alpe d'Huez or Mont Ventoux, but it reaches a maximum gradient of 33 per cent and will consequently be one of the steepest climbs the race has ever tackled.
"The final climb is very difficult," Zeeman added. "There will be an explosion in what is left of the peloton on that climb, but there is still 5km to the finish and it is too short for the favourites to drop each other. Even if there are small gaps, I would expect a group of 30 guys to come together in a small-bunch finish."
The fact that everyone in the UK is so enthusiastic about pro cycling is a really welcome addition to the sport.
Merijn Zeeman
Stage one also contains a handful of testing climbs, not least Buttertubs Pass, but the road flattens out ahead of a fast-paced finale in Harrogate. However, Zeeman doesn't believes sprinters such as Mark Cavendish and Marcel Kittel will have it all their own way.
Enthusiastic support
"The first stage is going to be nervous on those roads, so I wouldn't say it is going to be quiet," he added. "It looks most likely that it will be a bunch sprint, but it will not be an easy day for the sprinters."
Zeeman visited Yorkshire on his way back to the continent from Dublin, where he had been with Belkin for the Grande Partenza of the Giro d'Italia.
Huge crowds defied bad weather to support the race as it travelled over three days from Belfast to Dublin via Giant's Causeway and Armagh, and Zeeman expects a similar welcome from Yorkshire.
He added: "It was a great atmosphere in Ireland and very nice to see that the people really like cycling, and I expect it to be the same in England. The fact that everyone in the UK is so enthusiastic about pro cycling is a really welcome addition to the sport."