Diego Ulissi temporarily suspended over 'abnormal' amount of salbutamol in test
Last Updated: 25/06/14 4:38pm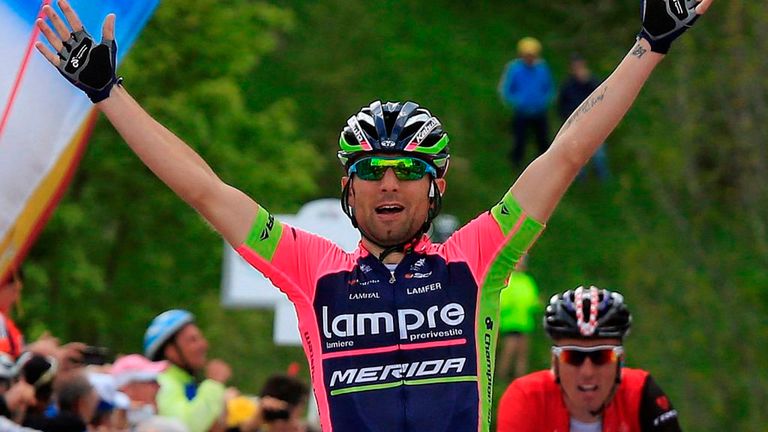 Italian rider Diego Ulissi tested positive for an "abnormal" amount of salbutamol during the Giro d'Italia in which he won two stages last month, his Lampre-Merida team has announced.
Ulissi won stages five and eight of the race, with the adverse analytical finding coming after the 11th stage won by Michael Rogers.
The 24-year-old has been provisionally suspended by Lampre-Merida and has requested the analysis of his B sample.
A team statement read: "Diego Ulissi has today received notification from the International Cycling Union [UCI] of an adverse analytical finding in relation to the anti-doping test carried out at the end of the 11th stage during the Giro d'Italia [Collecchio-Savona, May 21, 2014].
"The results of the test from the UCI report the presence in the urine of the athlete of an abnormal amount of salbutamol [1900ng/ml], higher than the limit allowed by the regulations, which sees the limit at 1000ng/ml."
Asthma medication
Ulissi had declared and was permitted to use Ventolin, which contains salbutamol, during the race, Lampre-Merida stated. Salbutamol is a medication used to treat asthma.
The team statement added: "The rider, as per internal team sanitary code, will be provisionally suspended, consequently he will not be attending the national team training camp, and he requests the opening and analysis of sample B.
"The athlete himself and the medical staff of the team will continue to explore the reasons why the urine has been identified as having an abnormal and high presence of salbutamol, compared to only two inhalations performed [equivalent to 100ng of Salbutamol each].
"Ulissi strongly rejects the presence of such a large amount of salbutamol and decided to make use of the possibility provided for by the WADA [World Anti-doping Agency] and UCI regulations to undergo a controlled excretion study in relation to the substance salbutamol."