Tour de France: David Millar reveals axing from Garmin-Sharp line-up on Twitter
Last Updated: 01/07/14 2:43pm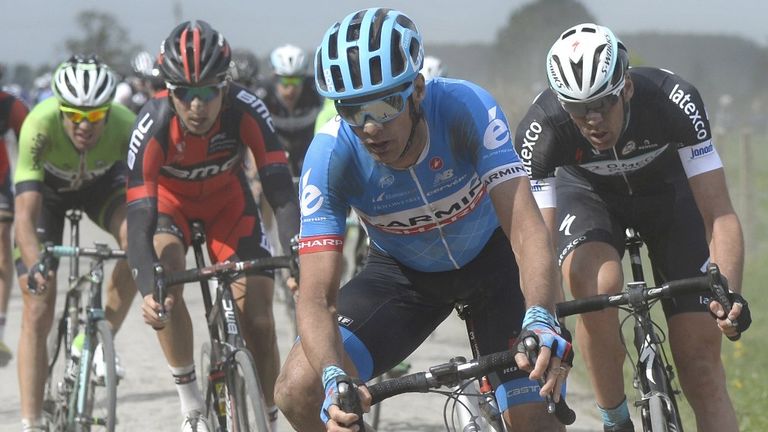 David Millar has been denied a swansong 13th Tour de France after being withdrawn from Garmin-Sharp's line-up.
The 37-year-old Scot tweeted last week that he had been selected for the American team's nine-man squad, but returned to Twitter on Monday afternoon to announce that was no longer the case.
Millar, who will retire at the end of the season, tweeted: "I was selected for TdF last week, then they pulled me last night. Wiggo, Dowsett, Pete, Swifty, fancy a city break? I hear York's nice."
Garmin-Sharp confirmed the news shortly after Millar's tweet. Sports director Charly Wegelius said in a statement: "Selecting the final nine for our Tour is a very difficult task. This year, we come into the Tour with a team built around Andrew Talansky.
"Had David Millar been healthy, he would have been a phenomenal team member. We would have loved to have him. Unfortunately, as seen over the weekend, David is sick, so we were forced to make a difficult and sad decision. 
'Very sorry'
"We are very sorry to leave David Millar home due to illness. His experience is unparallelled and his contributions to the sport and our team are undeniable. We wish things were different for David, but as we look ahead to the Tour, we believe we have selected a strong team and we are committed to helping Andrew build on last year's success."
Millar's omission came after he abandoned the British national men's road race having failed to follow the decisive breakaway.
Millar subsequently tweeted in the early hours of Monday morning: "None of my team will answer the phone to me. I under-performed at the nationals. I'm now so scared about losing my Tour spot I can't sleep."
The news of his withdrawal came just hours after Alex Dowsett was left out of the Movistar line-up due to illness.
It means that, as it stands, there will only be three Britons on the start line of stage one in Leeds on Saturday, with defending champion Chris Froome, Mark Cavendish and Geraint Thomas the only representatives of the Grand Depart's host nation.
In Millar's absence, Garmin-Sharp's Tour team will be made up of the following riders: Janier Acevedo, Jack Bauer, Alex Howes, Ben King, Sebastian Langeveld, Ramunas Navardauskas, Tom-Jelte Slagter, Andrew Talansky and Johan Vansummeren.