Tour de France: Sir Dave Brailsford hails Grand Depart as 'pinnacle' of British cycling's boom
By Matt Westby
Last Updated: 03/07/14 7:44pm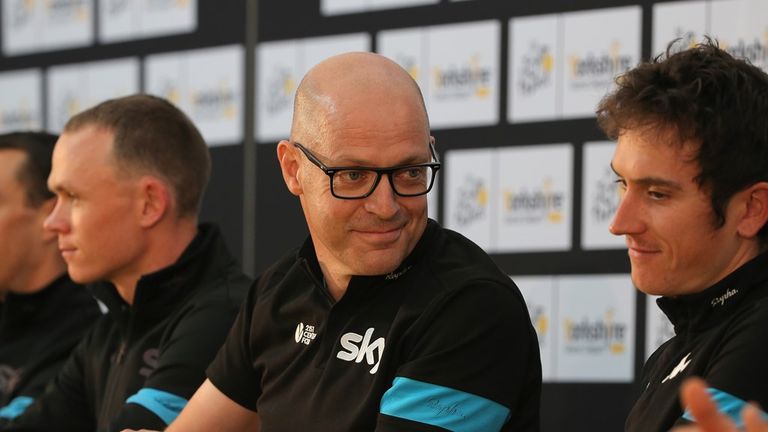 Team Sky principal Sir Dave Brailsford has described Yorkshire's staging of this weekend's Tour de France Grand Depart as the "pinnacle" of British cycling's recent boom.
Millions of people are expected to take to English roads on Saturday, Sunday and Monday to see the largest free-to-watch sporting spectacle in the world and the most prestigious race in cycling.
While a strong bid from Yorkshire's tourism agency was central to the Tour heading to the county, race organisers were also heavily influenced by the upsurge in Britain's interest in cycling and the fact that British riders have won past two editions of the event.
Speaking at Team Sky's pre-race press conference in Leeds, Brailsford, who has been the driving force behind Britain's unprecedented success on both the road and track in the past 15 years, said: "Yesterday I drove up the M1 and it was a surreal experience because there was a sign that said, 'Possible delays due to the Tour de France'.
'Exceptional journey'
"It made me stop and think. It's an amazing experience to come up the M1 to the start of the Tour de France.
"The last 10 or 15 years, the journey that British cycling has been on to get to this moment, it has been an exceptional journey and this is the pinnacle of that journey in many respects. You are not looking at just a couple of years worth work here; you are looking at 15 years worth of work.
"The greatest cycling event is starting here in Yorkshire - and it's a great privilege to be taking part of it. I am sure the crowds in Briton will do the race proud."
Britain's success in cycling has come with its drawbacks, however, with Team Sky's victories on the road being constantly questioned by doubters who refuse to believe they race clean.
Clean team
Chris Froome was persistently grilled on the issue during his Tour win last year and has come under more scrutiny recently following his use of an inhaler at last month's Criterium du Dauphine.
Brailsford, however, reiterated that Team Sky's success has been honestly achieved.
He added: "With Team Sky, the ambition was to build a team to win the Tour de France, try to win with a British rider, and try to do it clean.
"We have achieved that. We race clean, we have won this race with two British riders clean and that is what we will continue to do. We are a clean team, we play by the rules. We are happy that Wada [the World Anti-Doping Agency] is happy with us and we are happy that the UCI [the International Cycling Union] is happy with us."