Tour de France: Chris Froome says starting his title defence in England will be 'really special'
By Matt Westby
Last Updated: 05/07/14 9:29pm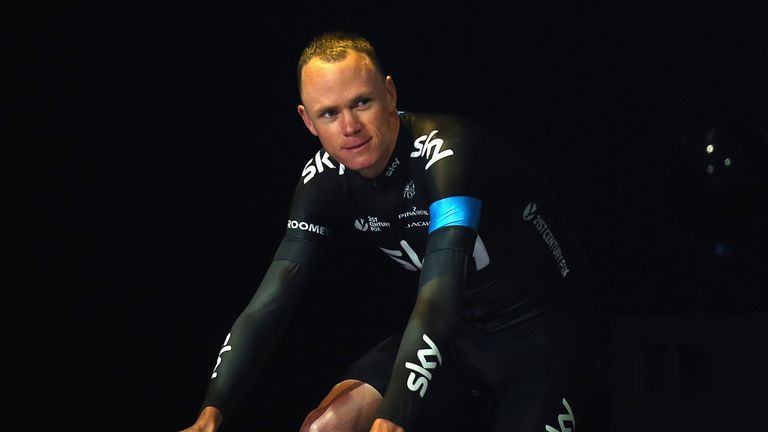 Chris Froome says starting the defence of his Tour de France title on English soil this weekend will be "really special".
Froome was born in Kenya and educated in South Africa but insists he is very much British and will relish every moment of the Grand Depart, which begins in Yorkshire on Saturday and Sunday and continues with a third stage from Cambridge to London on Monday.
The Team Sky leader happily admits he knew very little about Yorkshire before visiting for a route reconnaissance at the end of May, but he has been humbled by its people and scenery and is excited about the chance to repay the support of the British public over the next three days.
"It's massive, it really is special," the 2013 Tour winner said. "I don't think many Tour champions get to come back as defending champion and can start in front of their home crowd. To be in front of that home crowd and have their support is second to none.
'Amazing opportunity'
"Even when we came up and did the recon, the interest and the reception we received from the people here has been just amazing. For me, this is going to be an amazing opportunity to connect with those people.
"I didn't know a lot about Yorkshire before this year's Tour. I had heard obviously that the countryside is extremely scenic, but I sort of thought, 'Yeah right'. But I was literally blown away when I came to do the recon up here. The scenery really is stunning. There couldn't be many better places to want to ride your bike."
I'm going to have a lot of tough competition on the Tour this year. It's going to make for some good racing.
Chris Froome
Although excited by racing in England, Froome's focus remains firmly fixed on ensuring he is on the top step of the podium in Paris on July 27.
A crash at last month's Criterium du Dauphine disrupted his preparations and he will also have to fend off strong challenges from Alberto Contador, who finished above him at the Dauphine, and Vincenzo Nibali.
'Tough competition'
"Contador had a very good Dauphine and has had a very good start to the season as well," Froome added. "I definitely see him as my biggest opponent here, but that is not to say he is my only opponent. I'm going to have a lot of tough competition on the Tour this year. It's going to make for some good racing.
"There wasn't much in it before the crash. We'd had one mountain-top finish and a prologue and on both of those stages I came out on top, which was a really good feeling. But there wasn't much in it and I would imagine he is more prepared for this year's Tour de France.
"I have no doubt that Nibali will be in very good condition. I think at the Dauphine he wasn't quite at his best, but having won the Italian national championship [last weekend], I think he showed that he is where he needs to be for the start of the Tour."