Tour de France: Geraint Thomas predicts Grand Depart in England will be 'unbelievable'
Last Updated: 04/07/14 2:20pm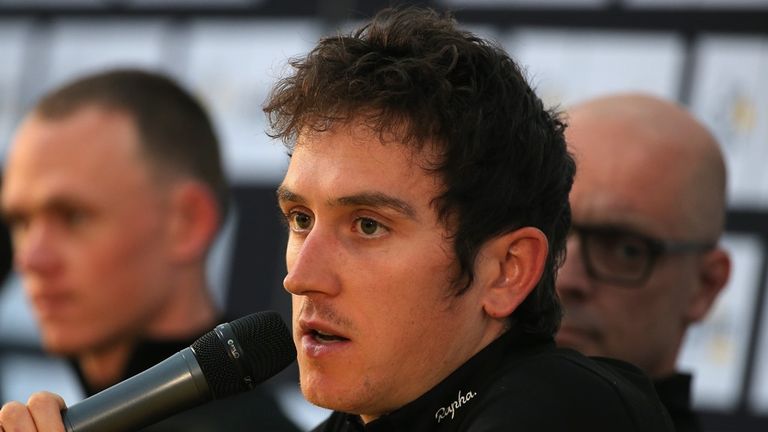 Geraint Thomas is predicting an "unbelievable" atmosphere at this weekend's Tour de France Grand Depart, but has admitted he is concerned about next Wednesday's cobbled fifth stage.
Thomas was the youngest rider in the race when it last visited England, in 2007, and will once again compete in front of home fans as one of only four Britons in the 2014 edition.
Millions of people lined the streets of London to watch the Tour seven years ago and Thomas expects another huge turnout from the British public this time around.
"It's great for it to come back here," he said. "I rode in 2007 when it was in London and that was incredible, and cycling has only got bigger since. I'm really looking forward to it and the atmosphere is going to be unbelievable.
'Kind of a dream'
"It's great to show how far British cycling has come. You look back at the Athens Olympics [in 2004], it was nowhere anywhere near this.
"It's kind of a dream. I don't think anyone would've predicted it and it's great for the sport. Hopefully it can continue to grow."
After two days in Yorkshire and a third stage from Cambridge to London, the race returns to France, first for a flat fourth stage and then a far more challenging 155.5km cobbled fifth stage from Ypres to Arenberg Porte du Hainaut.
It's going to be really stressful. On the cobbles silly little crashes can happen. So can punctures.
Geraint Thomas
The route contains 15.4km of pave, as the cobbles are known, split over 15 sections, and with crashes and mechanical problems common on the bone-jarring surface, staying out of trouble will be key for general classification contenders such as defending champion Chris Froome.
'Really stressful'
Thomas is a Classics rider who is at home on the cobbles and will have a key role to play in ensuring his Team Sky leader stays safe.
He said: "It's going to be really stressful. On the cobbles silly little crashes can happen. So can punctures. There are just a lot more variables. It's going to be a massive fight to be in the best position possible going into each of the sections. I'm not sure if I'm looking forward to it or looking forward to it being over.
"It's a different mentality looking after someone rather than racing it yourself. At Paris-Roubaix you get stuck in. You look after yourself and you fight, bounce around and get into the position you want. But when you've got a team leader following you, you need to be thinking about them all the time.
"From the recon he was fine over the cobbles. It's just about getting him into the right place. I think we have a good team to get in the mindset of getting in there and going for it, rather than being defensive."