Tour de France: Chris Froome 'devastated' but insists quitting race was right decision
By Matt Westby
Last Updated: 10/07/14 11:55am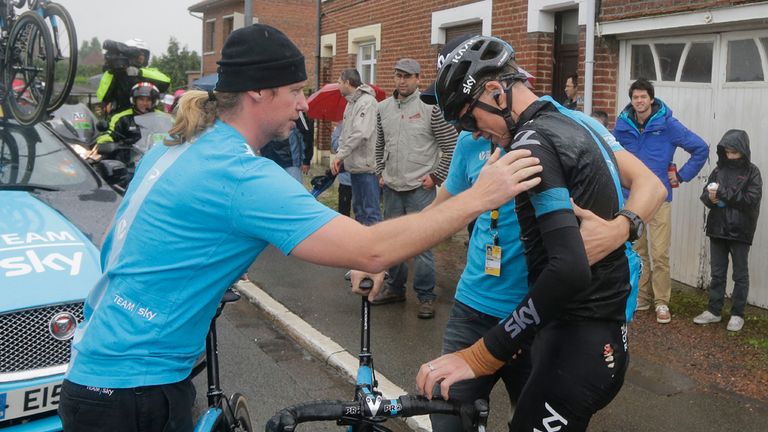 Chris Froome is "devastated" at being forced to pull out of the Tour de France but insisted the pain in his injured wrist left him with no choice.
The defending champion quit the race after the second of two crashes on Wednesday's rain-soaked and treacherous fifth stage from Ypres to Arenberg Porte du Hainaut.
They were his second and third heavy falls in the space of 24 hours following a previous crash on stage four in which he suffered an impact injury to his left wrist.
With stage five containing 13km of cobblestones and the threat of further tumbles looming, Froome said he knew his race was over instantly.
Fresh focus
"I'm devastated to have to pull out of the race," he told teamsky.com. "It was the right thing to do after crashing again and I knew that I couldn't carry on.
"I'm going to fly home tonight and over the next few days I will go for some more scans on my wrist to find out exactly what injuries I have sustained.
"It's too early to say for definite when I will be back on the bike, I'm just going to concentrate on getting back to full fitness."
It was truly memorable to race the Tour de France on British soil and those crowds and sounds are something that I will never forget.
Chris Froome
Froome underwent an X-ray on his wrist on Tuesday evening after stage four, but with no fracture having been detected, he was happy to start stage five.
He wore a strapping to offer support on the bone-jarring cobbles, but slippery wet tarmac meant he didn't even reach the first section of pave.
'Wasn't to be'
"The X-ray last night didn't show an obvious fracture and I wanted to race today, but clearly I was in pain and we put heavy strapping on the left wrist from the start," he added.
"Everyone in the team did as much as they could for me – the riders, support staff and medical team were brilliant – and they all tried to get me through today, but unfortunately it just wasn't to be."
Despite an early and bitter end to his Tour, Froome insisted he would take fond memories away from the race.
"I would like to thank all the fans who supported me and the team, especially those who cheered us on in the UK," said. "It was truly memorable to race the Tour de France on British soil and those crowds and sounds are something that I will never forget."