Chris Froome confirms he fractured left wrist and right hand in Tour de France crashes
By Matt Westby
Last Updated: 12/07/14 12:35pm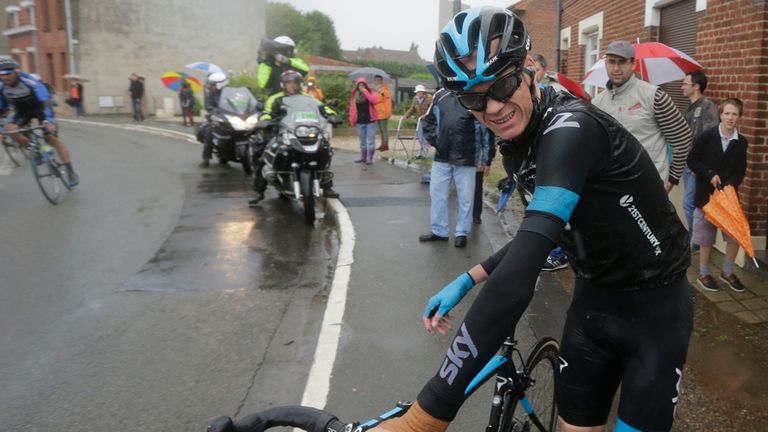 Chris Froome has confirmed that he sustained fractures to his left wrist and right hand in the crashes that led to him abandoning the Tour de France.
The Team Sky rider fell heavily on Tuesday's fourth stage and then went down twice more on wet roads on Wednesday's fifth stage.
He was unable to continue after the third incident and flew home to the south of France later that night to undergo medical checks at the Monaco Institute of Sport.
He tweeted on Friday evening: "MRIs done, confirmed fractures to the left wrist & right hand. Time for some R&R..."
Froome underwent an X-ray after his crash on Tuesday, but no breaks were detected and he was declared fit to start Wednesday's stage, although he wore a strapping on his left wrist.
Speedy recovery
Team doctor Alan Farrell confirmed fractures had subsequently been found but told teamsky.com that Froome should make a speedy recovery.
"We made it a matter of priority for Chris to have a thorough investigation into the injuries he sustained as initial scans from the race doctor on stage four couldn't confirm any fractures," he said.
"Under our instruction, Chris was examined by a specialist at the Monaco Institute of Sport. The process involved MRI scans, which have shown today that Chris suffered a small fracture to one of the bones in his left wrist. The investigations also revealed a small fracture to a bone in Chris's right hand, which hadn't caused him any undue pain over the two stages.
"Thankfully, his injuries won't be keeping him off the bike for too long and we expect him to return to training in the next few weeks."
Froome is now expected to turn his attention to marquee races later in the season. The final Grand Tour of the year, the Vuelta a Espana, starts on August 23, while the Tour of Britain, from September 7-14, and the world championships, at the end of September, could also be targets.