New Zealand legend Sean Fitzpatrick backs Chris Robshaw as the right man to lead England
Sean Fitzpatrick says Chris Robshaw was right to kick for goal during England's defeat to South Africa.
Last Updated: 29/11/12 11:10am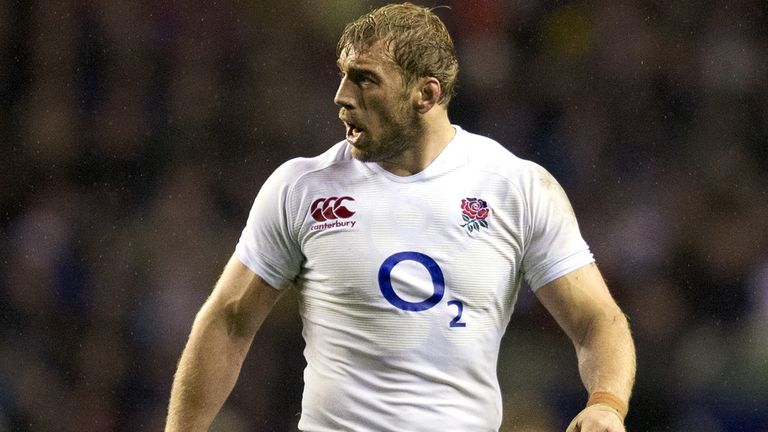 Robshaw has come under increasing criticism after his decision making on the field was questioned during England's clashes with Australia and South Africa.
England lost 20-14 to Australia a fortnight ago and Robshaw chose to kick two penalties to the corner rather than take the points on offer.
A week later the Twickenham crowd booed as Robshaw opted for three points against South Africa when they were four points down with two minutes remaining.
However former New Zealand skipper Sean Fitzpatrick says the Harlequins man made the right call.
"I would have done exactly what he did," the 1987 World Cup-winning hooker told skysports.com.
"England had 2.30 minutes to go and if he did not have players questioning him then it may have come off. It was the right decision in terms of what he was trying to do.
"I had to make quite a few tough decisions in my time but I was pretty lucky that I had some excellent leaders around me, however, I look back to where I was in 1992 - I was an inexperienced captain and we had an inexperienced All Black coach in Laurie Mains.
"We made mistakes that were costly - we lost a series to France. It probably took us three years to feel really comfortable with what we were doing. By the end of 1995 I was a much better All Black captain and Laurie was a much better All Black coach.
"So this is a process that Robshaw is going to go through; he needs to carry on playing the way he is playing and leading by example - I thought he was excellent on the field against South Africa and I believe his call to go for posts was the right one."
Defining moments
Fitzpatrick also believes that while the England fans and press may not be happy with their side's performance, they will look back at this autumn as an important part of their development.
"This autumn has been a defining time for both England's coaches and players," he said. "It has really shown them where they are at and it is pretty obvious that they have some way to go.
"However, this is a young team and their captain has just 11 caps; yhey are really lacking experience. But this is a defining time for them and they are learning exactly where they are at by playing the best three rugby teams in the world.
"Like Robshaw, the coaches are also lacking experience in areas where they are going to get found out - but that is just the learning process. Their inability to create space and score tires is a real issue for them. The coaches need to work out why that is happening and get it sorted."
Better than ever
England's final test is their hardest one as they welcome the all-conquering All Blacks - and Fitzpatrick says that this side is better than the one that won the World Cup in 2011.
"This All Black side is a better team than they were 12 months ago," said Fitzpatrick. "It is really pleasing how the new coaching team have come in and have added to where they were 12 months ago.
"The players have really stepped it up, too, and the senior team members have really helped the young guys in the organisation. The Luke Romanos and the Julian Saveas have really added something to this team.
"The likes of Kieran Reed, Israel Dagg, Richie McCaw, Tony Woodcock, Owen Franks, Dan Carter - they just do not make mistakes and by doing that they put on huge pressure on the opposition and create space and score tries.
"They are playing a great style of rugby and their intent to be better players and a better team, week in and week out is really pleasing."
Unfortunate
The only black mark against the All Blacks on their tour so far has been the Andrew Hore incident; the All Black hooker was banned for five weeks after being cited for laying out the Wales' lock Bradley Davies from behind during last Saturday's clash at the Millennium Stadium.
"That was unfortunate and that is not the way the All Blacks play," said Fitzpatrick, who once had his ear bitten by Springbok prop Johan le Roux (le Roux received a 20 month ban).
"I know Andrew will be very disappointed and the rest of the team will be too."
The All Blacks are on track to leave the northern hemisphere unbeaten after seeing off Scotland, Italy and Wales, and Fitzpatrick is looking for more of the same against England.
"This side is also very happy playing without the ball which to me is the sign of a really good team," he added. "They like working teams into corners and shutting down space - then when they do force a turnover they are away.
"I still believe that they need to play very well to get on top of an English side fighting for their lives. There is a huge amount of pressure on England."