Evans relishes Tour win
Cadel Evans savoured the taste of champagne after confirming his victory in the Tour de France.
Last Updated: 25/07/11 8:30am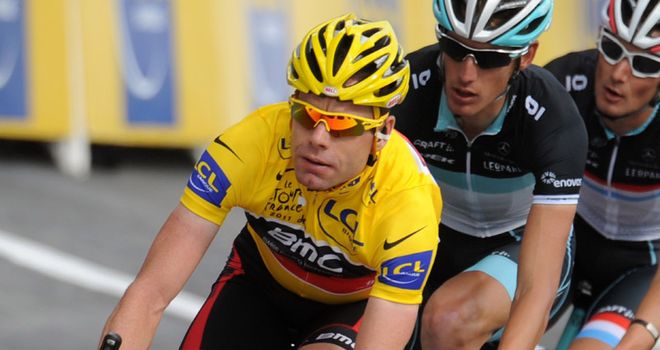 Cadel Evans savoured the taste of champagne and his day in the yellow jersey as he became Australia's first Tour de France champion.
The 34-year-old BMC Racing team leader secured victory when he turned a 57-second deficit into a lead of one minute 34 seconds in Saturday's 42.5-kilometre time-trial in Grenoble.
That left Evans ahead of Andy and Frank Schleck (both Leopard Trek), who became the first brothers on the Tour podium in Paris.
Wearing the yellow jersey for the first time on this year's Tour, Evans rolled around the 95km, 21st stage from Creteil to the Champs-Elysees in a celebratory procession, but not without a hitch.
The two-time Tour runner-up had to swap his special yellow bike for the team issue black and red version 11km into the stage.
The 2009 world champion is, according to some observers, the winner of the cleanest Tour for years, the scourge of doping having tarnished the sport's biggest race on many occasions.
But Evans ducked the question of doping at the race winner's press conference.
Asked how much he thought the efforts to clean up the sport have enabled him to triumph, Evans said: "I don't think I'm in a good position to comment on that. Sorry."
Pressed to use his position as Tour winner to comment on the issue which has plagued the sport for decades, Evans added: "I think the best thing I can do as an athlete is to give a good example.
"I'm trying to be the best example I can and let other people have their opinions on other athletes and society.
"People have a right to have their own opinions."
Difficult situation
In truth, Evans was put in a difficult situation in which he could not win.
Each year the Tour winner is questioned about doping in an attempt to address the elephant in the room.
It is a subject cycling cannot shift and last year's winner Alberto Contador is the subject of a Court of Arbitration for Sport hearing beginning on August 1.
The Spaniard tested positive for clenbuterol at last year's race and protests his innocence, attributing the adverse finding to contaminated meat, but the 2010 Tour result will be determined in the courtroom.
Seven-time champion Lance Armstrong, meanwhile, has been dogged by allegations, all of which he denies.
There is a link between Armstrong and Evans, namely their team-mate George Hincapie.
On Sunday the American completed his 16th Tour and has been on the winning team on nine occasions, seven with Armstrong, once with Contador and now with Evans.
Teamwork
Evans paid tribute to his team-mates in celebrating victory.
"When I'm alone it's my two legs, but the team really delivered me to this point," he said.
Evans came close twice before, finishing second to Contador by 23 seconds in 2007 and 58 seconds to Carlos Sastre the following year.
His challenge faded in 2009, while in 2010, apparently rejuvenated by his World Championship win, his Tour was hampered when he crashed and fractured his arm while wearing the yellow jersey.
He said: "It's taken me nearly 10 years to win a Tour, but I seem to have copped the criticism for losing the Tour.
"In 2007 it was so close but against Contador he had a really good day on the last day. In 2008 everyone was so convinced that I was going to win it.
"I had a crash on stage eight or nine and that was by far and away my hardest Tour de France that I ever rode.
"I suffered so much on that Tour through injuries, bruising and loss of skin.
"In the final time-trial everyone was so convinced I was going to win it, but the suffering I'd gone through and the extra energy showed."
Consistency was the key to his performance in 2011 and the final result has made all the suffering worthwhile.