All for one and one for all
Team Sky's squad will give everything they've got over the coming three weeks to help Bradley Wiggins shine at the Vuelta a Espana.
Last Updated: 21/08/11 12:52pm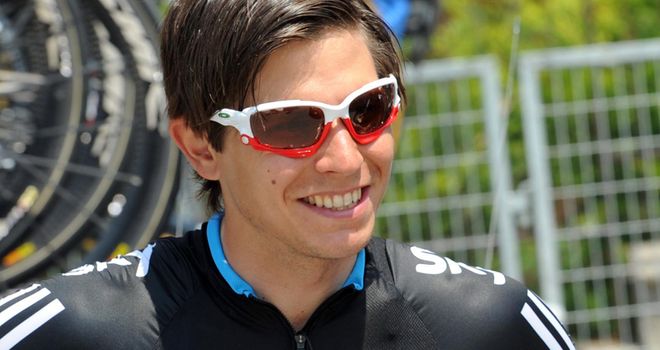 Wiggins the focus in final Grand Tour of 2011
Team Sky's squad will give everything they've got over the coming three weeks to help Bradley Wiggins achieve the best possible position at the Vuelta a Espana.
Wiggins, who was forced to abandon the Tour de France last month with a broken collarbone, makes his return in the race and leads a squad which includes fellow Brits Chris Froome and Ian Stannard.
Talented Swede Thomas Löfkvist will provide Wiggins with key support in the mountains, as will Italian duo Dario Cioni and Morris Possoni, and the experienced Spaniard Xabier Zandio.
Löfkvist said: "Bradley is a very strong leader and we are very strong in terms of our climbing ability. I think we'll be one of the best teams there and I'll be doing everything I can to support him.
"I've heard he's been able to conserve his good shape and I'm expecting him to be really strong and hoping he can produce a good result."
That was echoed by Cioni who added: "It's a really good team here with a good mix of youth and experience and hopefully Brad will be able to produce a strong performance in the GC. That will be our main focus and I'll be working as hard as I can for him throughout the race.
"We have a lot of other good climbers in the team though so it will be a matter of seeing who is on form to keep Brad as comfortable as possible, especially when it gets hilly. Every riders' condition can change on a daily basis so we'll chop and change our plan in terms of who looks after him.
"Elsewhere, CJ has been riding well recently and is definitely capable of getting results in the sprints, and we also have guys who are really strong in breakaways, so there are definitely other avenues for us to explore as well."
Sprint option
The aforementioned Sutton, the winner of Kuurne-Bruxelles-Kuurne earlier in the season, is hoping for a stage win during the course of the three weeks.
He said: "Obviously finishing the race is the first goal but I'd like to get a stage win too you know.
"Being the only sprinter there it has its advantages. I've been given the opportunity to step up now and be the sprinter. So I'm looking forward to that and obviously each day in a Grand Tour, because it's three weeks long, you go through that many different emotions. Sometimes you have good days and you always have bad days. But for me I'd like to win a stage so that's my goal."
Sutton arrives at the Vuelta after consecutive stage races in Austria, Italy and Denmark, a programme that should ensure he is hitting peak form as the race kicks off.
"I've been sprinting alright out training and I came out of Tour of Denmark feeling pretty good so that was a good sign for me," he added. "I've just been concentrating on all the little things - all the one-percenters – and I'm raring to go."
Grand Tour veteran Kurt-Asle Arvesen rounds off a talented and versatile squad for Team Sky and he's looking to go out with a bang at the Vuelta after announcing he will retire at the end of the season.
He told www.teamsky.com: "This is going to be my last Grand Tour so I'm looking forward to it a lot. It's nice that I've been able to get a Grand Tour ride with Team Sky and it'll be a proud moment for me to represent them on that stage.
"If the chance arises, I would like to get the chance to go for a solo stage win because that is the last goal I have for my career and it would be a perfect way to round things off. Obviously though, at the same time I am happy to honour my obligation to the team."