Fresh perspective for Wiggins
Bradley Wiggins says he is "raring to go" ahead of his return to action at the Vuelta a Espana.
By Jonathan Turner
Last Updated: 21/08/11 12:52pm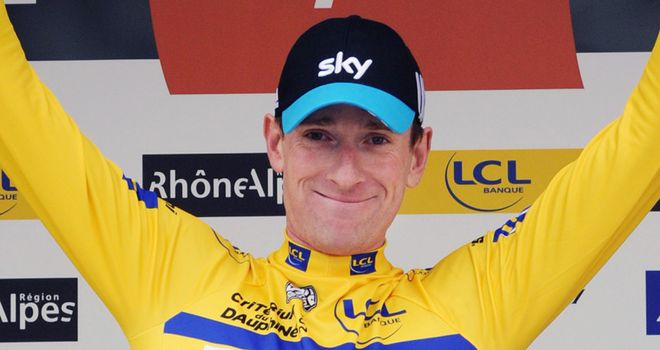 Bradley Wiggins says he is "raring to go" ahead of his return to action at the Vuelta a Espana.
The 31-year-old has not raced since crashing out of the Tour de France with a broken collarbone, but says all the performance indicators suggest he is back in the sort of form which saw him win the Critérium du Dauphiné and take a high rank in the Tour before his exit on stage seven.
"I'm really pleased with the way the recovery has gone and I'm delighted by the fact that I've got back to a high level for both the Tour of Spain and the World Time Trial Championships afterwards," said Wiggins. "I think everything is suggesting I'm in as good a shape as I was going into the Tour which is fantastic."
Wiggins will lead Team Sky's nine-man squad, which includes fellow Britons Chris Froome and Ian Stannard, Swede Thomas Lofkvist, Italian duo Dario Cioni and Morris Possoni, Spaniard Xabier Zandio, Australia's Chris Sutton and Kurt-Asle Arvesen of Norway.
And he was quick to emphasise that there's no question of holding back at the Vuelta, with an eye on the World TT, explaining: "Initially there was a view that we'd try and build through the Vuelta but I've gone beyond that level now. There are not many opportunities to ride a Grand Tour for GC and in terms of next year, going forward and maybe aiming to win the Tour de France, I have to take every opportunity.
"That means going into this Vuelta, leading the team, really tackling the GC and putting my hand up and saying 'I'm going to go for it'.
A 47 kilometres individual time trial, which comes midway through the Vuelta on stage 10, will clearly be a focus but Wiggins stressed he'll be taking it stage-by-stage, adding: "I'll be giving 100% each day - obviously I'll have some bad days but I'll also have some great days and that time trial's in there for me.
"It's then a question of seeing what I come away with at the end. That might be a top 10, it may be a top six, it may be a podium, I really don't know at this stage but we'll give it a good crack.
"The only thing is I haven't raced for six weeks and it's one thing doing it in training and another doing it in the race but I'm ready for the challenge."
Turning up the heat
Wiggins' training has even seen him use a heat chamber in his garden shed to prepare for the high temperatures. He explained: "The Vuelta is a completely different format to the Tour de France in that it's later starts, at the hottest time of the day, and shorter stages but flat out for three or four hours.
"It's going to be tough but I've prepared well for it and held my weight from the Tour as well as doing plenty of heat acclimatisation training.
"I've got a heat chamber at my house in England which I have at 41-42 degrees and I can sit in there training on my turbo. It was the one thing I was able to do immediately after my operation and I've been doing it every other day for six weeks so I'm well topped up and adjusted for that.
"It was something we certainly recognised from the Tour de France last year when it was so hot. I really suffered with that as well as the altitude so they were things we concentrated on this year and thought there was a performance gain to be made."
All to play for
And Wiggins is relishing not only the Vuelta but the rest of the season, with his early exit from the Tour de France giving him a fresh perspective on the latter part of the campaign.
"The Vuelta is the only Grand Tour I've never done so it's nice at this time of the year to be really feeling fit and healthy and raring to go, having not done the Tour de France for the first time in a few years," he said.
"Normally at this time of year you are just trying to get back on the bike after a hard Tour. Now I'm still firing and it almost feels like the start of the season. I've never really been in that position before and I'm looking forward to racing right to the back-end and getting some good results before the end of the year."
Wiggins' victory at the Dauphiné was part of a sequence of overall wins for Team Sky, with Edvald Boasson Hagen's triumph in last week's Eneco Tour the latest of those.
And Wiggins added: "I think the team is really starting to roll now and every race we go to we're picking up results. It's building and building and it's the result of everyone's efforts. It's the way Dave [Brailsford] has always wanted this team to run. It took a bit of time to grow through last season and was criticised at times but I think this season the results speak for themselves.
"You only have to look at the strength in depth we've got here for the Tour of Spain to illustrate that and it's the same right the way through the season. It's exciting for the whole team and is getting better all the time."