So far so good for Wiggins
Team Sky's Bradley Wiggins says he's going from strength to strength at the Vuelta a Espana.
By Jonathan Turner
Last Updated: 31/08/11 6:39pm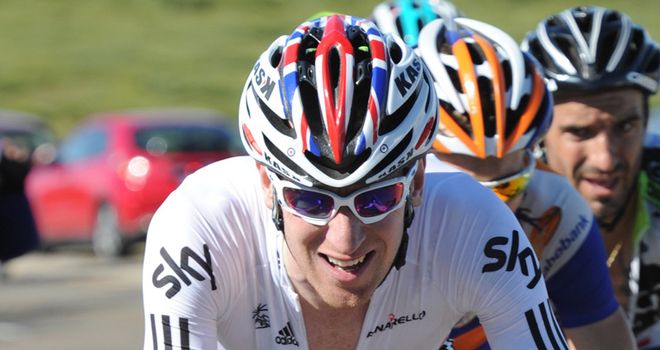 Team Sky's Bradley Wiggins believes he's going from strength to strength at the Vuelta a Espana.
Speaking on the first rest day at the season's final Grand Tour, Wiggins revealed he was delighted with the way things have gone on his return to action following his broken collarbone at the Tour de France.
Wiggins has moved up to third on the general classification, 20 seconds behind team-mate Chris Froome, thanks to an outstanding display alongside Froome on the climb up to La Covatilla on stage nine, which he followed up with third place in Monday's time trial around Salamanca.
Wiggins told www.teamsky.com: "I think it's got better and better as the race has gone on for me. I was a bit ring rusty to start with but two days ago, the way I rode that climb was like a turning point for me really, probably in my career. It was fantastic.
"And then to consolidate it yesterday in the time trial was ideal. Perhaps it wasn't one of my best time trials but under the conditions I got the job done and punched a big hole between me and the main GC rivals. I'm third overall, 20 seconds off the lead and I've got the luxury of my team-mate leading which deflects the pressure slightly. I think it's just a great position to be in and if someone had given me this 10 days ago in Benidorm I'd have taken it."
Early nerves
Wiggins admitted to initial nerves on his return from injury but now can't wait to get stuck into the second half of the race.
"Certainly the first sprint stage was quite a nervous one," he added. "I'd been very conscious of crashing and doing some damage to my shoulder but I've managed to avoid most of the crashes, especially that big one at the end of stage seven in Talavera de la Reina.
"I'm slowly getting my confidence back and now I'm into a good position on the GC there's a bit more of a ticket to ride in the front and it's certainly coming together a bit more now.
"I don't think anyone expected me to be able to do this so soon after my operation but I've just got stronger and stronger each day. I had a little bout of sickness last week when I was on antibiotics but I've come through that and now I'm ready for the next stage of the race."
One step at a time
That starts on Wednesday with the 11th stage from Verin to Estacion de Montana Manzaneda and Wiggins stressed: "For me it's just a question of taking it day-by-day, the focus is now on tomorrow's stage and that's going to be a really tough one. It features another summit finish and it's just about going out there and performing again and not trying to get too far ahead of yourself because you'd only end up tripping up. It's one day at a time – get the most out of that day and then move on.
"It's been a very tough first week for the whole peloton and I think everyone's pleased at the rest day today.
"It's going to be a tough old job to control things now but we'll certainly give it our best shot and everyone is really up for the job. There's definitely no better motivation than having the jersey."
And the man wearing that jersey on Wednesday will be Froome, with Wiggins delighted to see his colleague in red and full of praise for his performances so far.
He said: "I think Chris has taken a giant step forward in his career. He's always been capable of it but has never really got it together until now and I think he got his reward yesterday for all his efforts. It's fantastic for him and for the team that both of us are up there. It's a great position for us to be in and very much in our favour."