London Ashes battle
Great Britain's men's and women's team pursuit squads both qualified for their finals at the Track World Cup.
Last Updated: 17/02/12 11:06am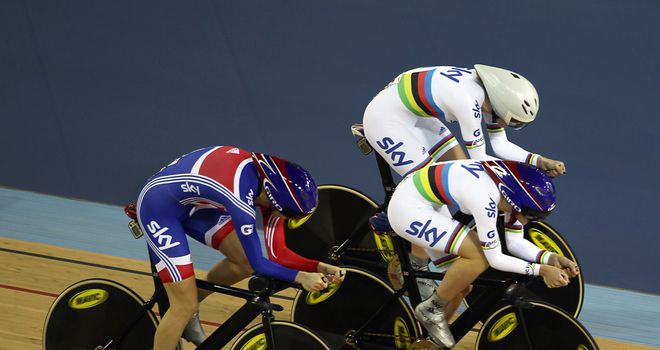 Great Britain's team pursuit squads were propelled through qualifying to the gold medal races on the opening night of the London Track World Cup by "a wall of noise" at the Olympic Velodrome.
Laura Trott, Wendy Houvenaghel and Joanna Rowsell will ride for gold on Friday after qualifying in three minutes 21.370 seconds, second fastest behind Canada, in the women's three-kilometre event which opened the Olympic test event.
Ed Clancy, Steven Burke, Peter Kennaugh and Geraint Thomas then advanced to an Ashes duel with fastest qualifiers Australia in Sunday's final of the men's 4km event, clocking 3mins 58.466secs behind their rivals' 3:57.885.
Clancy, part of the team which won Olympic gold in 2008, said: "There was a wall of noise the whole 16 laps. It didn't die down one bit.
"I can't believe 6,000 people have come to watch us qualify - it was mental.
"We usually communicate within the line - hold, squeeze, if we lose a guy at the end - we couldn't have heard a thing there."
Energised
Energised by a partisan crowd, Clancy admitted his team had to be disciplined to stick to their prescribed time schedule, particularly in the early stages of their ride.
"You've really got to hold back in the first couple of laps," Clancy added.
"Jo (Rowsell) was nine tenths (of a second) up on her first lap and we all saw that and thought 'woah, we've really got to keep a lid on this lads'.
"We were really quite mindful to be in our own bubble and do what we can do in training."
Britain were the 13th of 18 teams to ride in qualifying and had to wait for their final place to be secured, with New Zealand and Belgium reaching the bronze medal ride-off.
While the women's final takes place on the second night of competition, television has dictated that the men's blue ribband event has been scheduled for Sunday's final day.
"We've never dealt with anything like that before," added Clancy, who revealed the squad would go on a road ride on Friday and relax in the team's Docklands hotel.
"On one side it's nice to have a couple of days off, but it's bizarre racing at this time in qualifying and having two days sat in the hotel pondering what's going on.
"We're not allowed on the track for the next two days.
"I wouldn't want to turn down the opportunity to race here again - it's pretty cool."
Ashes battle
That opportunity will come against world champions Australia.
"They've got a super-star team at the moment and I think they're the favourites going into London," Clancy said.
Thomas also rode to gold in Beijing and believes Britain are capable of more.
He said: "We did a decent ride. We're a bit disappointed with the time, but we're always striving for more.
"We've got plenty of time now to iron out those factors we can improve on."
In the women's event, Britain were the penultimate trio of 15 teams to ride, but could not catch Canada's Tara Whitten, Gillian Carleton and Jasmin Glaesser, who clocked 3:20.785 to advance to the final as fastest qualifiers.
Australia and Holland will meet in the race for bronze.
Trott and Houvenaghel, who were wearing rainbow jerseys as reigning world champions, and Rowsell, wearing British team kit, set a fast pace, but tailed off towards the end.
Rowsell said: "We always planned to go out fast. We just couldn't keep it going, but hopefully tomorrow.
"When you're racing you try to block everything out but you can't block that amount of noise out.
"I think the world record is possible on this track."
Looking for more
British Cycling women's endurance coach Paul Manning was satisfied, but admitted he was considering inserting Dani King - world champion along with Trott and Houvenaghel last March - for the final.
Manning said: "We've got 24 hours now. It's quite a productive time to look at the four riders and see who we want to use."
Manning believes the crowd had an impact on his squad's fast start and he called for a more disciplined display.
He said: "We have to remain focused on our goals for the ride."
Also on Friday are the team sprint events - Sir Chris Hoy, Jason Kenny and Ross Edgar for the men, Victoria Pendleton and Jess Varnish for the women - and the first three events of the men's omnium, with Ben Swift riding.
Three non-Olympic events are also scheduled to take place - the women's scratch race, the men's one-kilometre time-trial and the men's points race.
Geraint Thomas is one of the elite athletes Sky are supporting as part of the Believe In Britain campaign - click here for full details.