Staff gives nod to Kenny
Jamie Staff says Jason Kenny should be GB's lead-off man in the team sprint.
Last Updated: 18/02/12 11:56am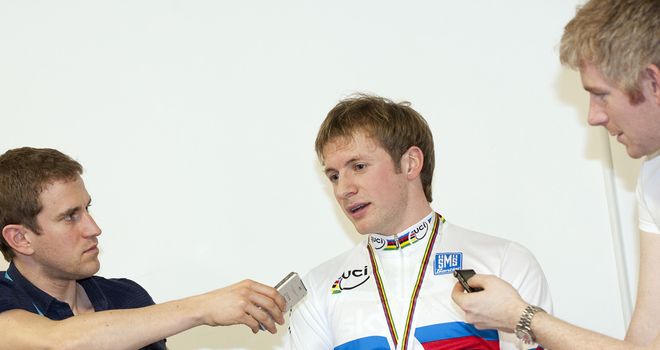 Jamie Staff believes fellow Olympic champion Jason Kenny is the man to step into the problematic man one position to solve Great Britain's team sprint dilemma.
Staff combined with Kenny and Sir Chris Hoy to win gold in Beijing but a back problem contributed to his decision to retire in 2010 - one British Cycling's management attempted to talk him out of - and he is now the United States' sprint coach, based in Los Angeles.
Britain have struggled to fill the crucial man one spot vacated by Staff in the three-man, three-lap team sprint, with Kenny, Ross Edgar and BMX rider Liam Phillips among those tested.
Staff believes Kenny is the ideal candidate for the role.
The 38-year-old from Ashford in Kent said: "Jason's already gone out there and done 17.3 (seconds). I know he's got potential.
"If I was the coach I'd definitely be trying to push Jason into one. The amount they will gain by putting Jason in one, being three or four tenths off what Ross can do, I don't see them losing that at man two."
Options open
Edgar took the role on Friday night as Britain claimed third place behind Germany and France on the second night of the Track World Cup at the Olympic Velodrome.
The Scot clocked 17.763 seconds for the opening lap, with Germany's Rene Enders riding in 17.325secs and France's Gregory Bauge 17.553. It is a small, but not insignificant gap, but one which meant his team-mates have to play catch-up.
If Kenny was moved to start, Edgar or Matt Crampton and Hoy could fulfil the remaining two slots, but Staff believes Germany and France will still be tough to beat come August's Olympic competition.
Kenny and Hoy are in competition for the one available place in the individual sprint, but Staff believes the 23-year-old from Bolton can perform both roles, citing the example of Bauge.
Bauge is one of the fastest starters in the world and was individual world champion in 2009 and 2010. Kenny was awarded the 2011 title after Bauge was stripped of the win for an anti-doping offence.
Staff gave suggestions of his own return short shrift when they were raised last year.
He added: "I thought I was doing them a favour in stepping down, to give them time to build someone up.
"I thought they would be able to get someone to replace me by now.
"It comes down to how much you want it. I had no regrets about moving on."