Brailsford hails achievement
Dave Brailsford believes Team Sky's dominance of stage seven represents a key milestone.
Last Updated: 07/07/12 10:44pm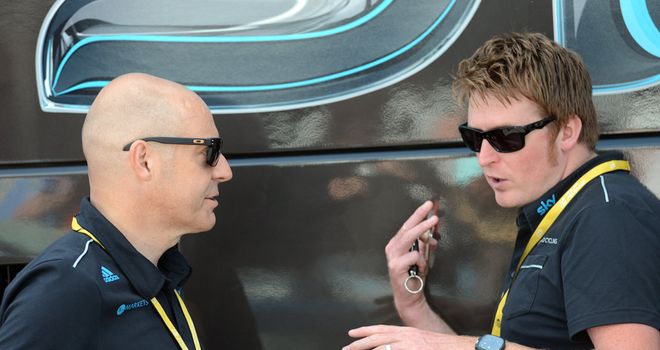 Dave Brailsford has labelled Team Sky's dominant display on the seventh stage of the Tour de France as a 'key milestone' for the squad and insisted everyone savour the moment before turning their attentions back to the job in hand.
The Team Principal has presided over many highs and some lows during Team Sky's two and a half seasons in the peloton, but none have come close to the magnitude of Saturday's performance, where Chris Froome romped to his first Tour victory and Bradley Wiggins took control of the yellow jersey in typically commanding style.
Ever since the launch of the team in 2010, Brailsford has stressed the importance of an uncompromising approach to performance, and was delighted to have seen the team's efforts rewarded on the grandest stage of them all.
He told us: "It was a fantastic ride from beginning to end today. Mick and Richie were superb on the climb and Froomey was awesome again. The fact he won the stage is absolutely brilliant. As a performance it was very pleasing and the best day we've had as a team.
"After our two previous Tours de France – the first one not being so positive, the second one much better – to finally wear the yellow jersey is a massive moment for us. That's happened now and you can never take it away. It's a key milestone and it's very rewarding."
No stranger to cycling success, Brailsford also stressed that the riders took time to savour their achievement: "The race is far from over but we should all stop and enjoy this tonight," he added. "These things can come and go very quickly, as I've learnt over the years. It is time to take stock and reflect a little bit on what we've achieved before getting our noses back to the grindstone."
Making history
Sports Director Sean Yates was equally forthright in his praise of the team and believes his charges are already making history.
He said: "This season, this bunch of riders have performed at a level that has not been seen many times before in the history of the sport. The last team that dominated like we've done was Miguel Indurain's Banesto squad in the early 90s. You could put the US Postal team up there as well, but it's pretty rare, and today was another demonstration of what we're about."
When it was put to him that Saturday's performance could take its toll in the tougher stages to come, Yates was quick to defend his riders and insisted they would not be left exposed in their defence of the jersey.
He added: "It might have looked like they were going deep out there today, but believe me, everyone will have been going deeper to try and keep pace with them. Their efforts were all good, all regulated, and all within what they are capable of. They are ticking all the boxes right now and will hopefully continue to do so all the way to Paris. That's a hell of a long way away at the moment but we're not afraid to work to defend this jersey.
"Having lost Siutsou means we're at a bit of a handicap, but we'll all try our best. We know BMC won't let the race go up the road if we can't control it, but we're ready to go and ready to do our job."
Dream come true
For Wiggins, Saturday's performance realised a life-long ambition, and one which he was all-too aware of when he was asked to reflect on his historic achievement.
"I had to pinch myself last night when I realised I was still in this race after all the crashes – that I was still alive and lying in second overall," he admitted to ITV4. "I couldn't help but think about this time last year when I was lying in a hospital bed in Châteauroux – but here we are, a year on. It's been a fantastic year and this is what we've been training for. I think it's fair to say we've peaked now, that's for sure.
"It's not over, but being in the yellow jersey is something to savour and enjoy. It was a childhood dream of mine and now it's come true. I promised my son yesterday I'd take the yellow jersey, so it's a nice feeling all-round."
For Froome as well, this stage will long live in his memory and the Kenyan-born rider is relishing the opportunity of going toe-to-toe with the best in the business.
"It's been a fantastic day for us and we couldn't have asked for more," he said. "All the biggest names in cycling are in this race and everyone's at their top form. There are no excuses and we're really happy with the way things are going at the moment for us. We're in a fantastic position and we'll do everything we can to keep Bradley at the top of the standings."