Wiggins understands scrutiny
Bradley Wiggins says he is personally hurt by recent doping insinuations, but now accepts why his performances are being scrutinised.
Last Updated: 13/07/12 6:18pm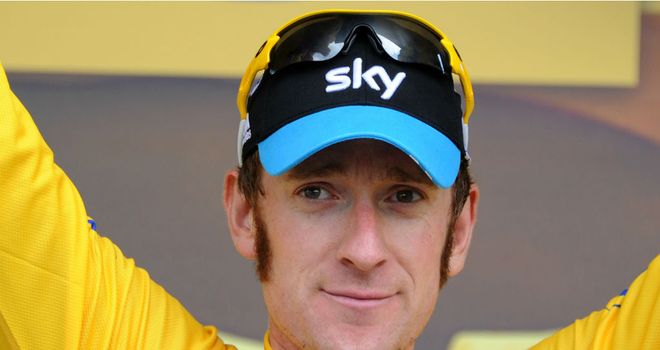 Tour de France leader Bradley Wiggins says he is personally hurt by recent doping insinuations, but now understands why his performances are being scrutinised.
The Team Sky rider launched an expletive-laden rant when questioned after his opening day in the yellow jersey on Sunday, but has now taken a more considered tone on the subject.
In a newspaper blog on Friday, Wiggins reiterated his anti-doping stance and explained the reasons why he says he would never use banned methods.
And after stage 12 of the Tour, which saw him maintain his overall lead, Wiggins was a lot more calm with his responses, saying he accepts the scrutiny in light of the doping scandals cycling has suffered in the past.
"I started to understand from certain parts of the media as to why those questions are asked and I started to accept it a little bit," the 32-year-old said.
"It's all right me sitting up here and saying, 'I don't want to talk about it, I've said what I have to say about it'.
Personal
"But if I am to be in this position now for another week, let's hope, and then beyond next season trying to do it all again, there's no point in me sitting and swearing every time that question gets asked.
"It hurts me. I take it very personally. Perhaps I shouldn't take it personally, perhaps it's just a position our sport is in from people who have set a precedent, sat in this position before me.
"I do want to start building bridges to prove that I'm doing this off of bread and water and hard work and nothing else.
"If I can be as open, as honest as possible, hopefully that will go some way to people believing that what I'm doing is honest and off of bread and water."
Wiggins insists his stance has not changed since the 2006 Operacion Puerto scandal and 2007, when he was embarrassed to be a member of the Cofidis team expelled from the Tour when Cristian Moreni tested positive.
In a blog on www.guardian.co.uk, he wrote: "The reasons why I would never use drugs have become more important. It comes down to my family, and the life I have built for myself and how I would feel about living with the possibility of getting caught.
Change
"I wrote it all in my autobiography back in 2008 and I still feel the same now. It's just I say it less. If I doped I would potentially stand to lose everything."
Wiggins also believes cycling is cleaning up its act.
He added: "I do believe the sport is changing, if you look at what Ryder Hesjedal did at the Giro and what Chris Froome did at the Vuelta.
"As that change has happened, my performances have gone up, and at the same time I've begun to work far harder than I did before.
"I'm not claiming the sport is out of the woods but doping in the sport is less of a worry to me personally, it's less at the forefront of my mind, because I'm no longer getting beaten by people who then go on and test positive or whatever.
"If there is a difference in my attitude now compared to back then, it's that I'm more focused on what I am doing, I pay less attention to what's going on outside my bubble because I'm not coming second to riders who dope."