Robinson hails 'terrific' Wiggins
Bradley Wiggins' success in the Tour de France completes a journey that was started in the 1950's by Brian Robinson.
By Jonathan Turner
Last Updated: 21/07/12 7:04pm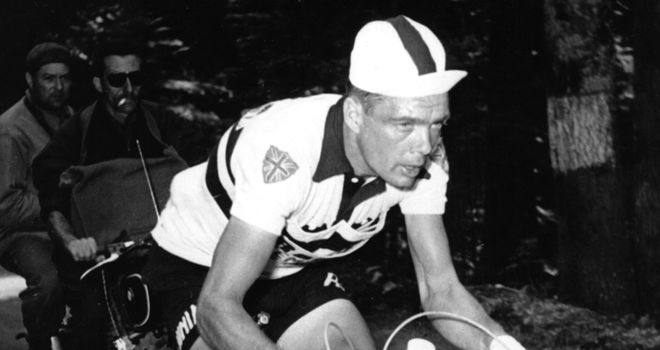 Bradley Wiggins' success in the Tour de France completes a journey that was started in the 1950's by Brian Robinson.
Yorkshireman Robinson was the trailblazer for Britain in cycling's biggest event, becoming the first Brit to complete the race in 1955 and then three years later he was the first to claim a stage win.
Now 81 and still riding his bike two days a week - "It's all about the good company and cycling in a nice area" - he's been thrilled to see the exploits of Wiggins.
"It's terrific, you can't pay him enough compliments for what he's done - he's at the top of the cycling world and it's been great to see," says Robinson.
"It's what we've wished for such a long time and it's pretty special to see it happening."
"We never dreamed of this in my early days. We were scrubbing along at the back of the bunch. To go right through that bunch, if you like, and to get to the top as a Brit is great. And we've got back up as well."
Paving the way
But it was Robinson who helped lay the foundations, having to deal with many different challenges of his own as he explained: "The facilities were pretty limited and we didn't really know how to race to be honest, we were in the early stages of discovering how to ride in stage races.
"The equipment was nothing like it is today; in fact it was hard to get at times in the early years.
"For example we used to have old woollen jerseys which were too hot when it was warm and then when it rained they stretched to twice as long!"
However Robinson rejects any suggestion that modern cyclists have an easier time than those of his generation.
"I don't think so, no," he said. "Riding the bike is riding the bike. No matter how good the bike is, you've still got to push it.
"You've got to work at it 100 per cent and, sometimes, a little bit over.
"The facilities are easier and probably the infrastructure of the sport, but you still have to do it."
Commitment
While Wiggins and Team Sky use those latest advances in sports science, the dedication and determination required bears a marked similarity to Robinson's era.
"I was always up for it," said Robinson. "It's what I always wanted to do. We took a full team over in '55 with Hercules [for his first Tour de France] and not all of them liked the life in France but it didn't bother me; I'd just come out of the army and anything was better than that!"
His first stage win came in 1958, followed by an emphatic success 12 months later and the memories remain as vivid as ever: "I was lucky enough to get in the right break, there were three of us who got away and it was good countryside for me - up and down in Brittany.
"I was feeling good and luck shone on us that day. They didn't catch us - it's not like today where the big team puts the speed up on the front to reel it in, it was a different type of racing then.
"It was superb to win a stage and helped you progress with the team but the news only really filtered back home via cycling magazines."
The mantle was then picked up by Tom Simpson and another rider from West Yorkshire, Barry Hoban, but fast-forwarding to the present day, Wiggins is poised to complete the biggest feat of all.
Robinson added: "It puts British cycling at the top of the tree.
"It's been a long journey but since we've got lottery funding that's helped a great deal and we've got the structure now to bring on our youngsters, which is another great thing."
Backing le Bid
And while Wiggins' heroics will spread much more quickly to a worldwide audience, Robinson is now hoping another wish comes to a similarly successful outcome.
For he has been an ambassador for Yorkshire's bid to host the Tour de France and said: "If we can get the Tour into Yorkshire next that would be great.
"We're in Paris this weekend and with Bradley winning it makes the case for coming to Yorkshire even stronger. I hope we're in with a good chance but you never know until they say 'yes'."
"People say a Yorkshireman set all this off so if I can help them bring the Tour to Yorkshire that would be perfect."
If you'd like to pledge your support for 'Back le Bid' please visit www.yorkshire.com/backlebid