Brailsford hails 'amazing' Wiggins
Team Sky principal Dave Brailsford paid tribute to Bradley Wiggins after he secured the Tour de France.
Last Updated: 22/07/12 7:11pm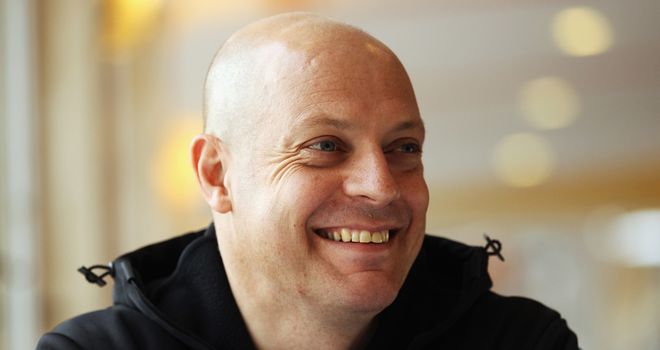 Team Sky principal Dave Brailsford hailed Bradley Wiggins after he became the first British winner of the Tour de France.
With team-mate Chris Froome second and no fewer than six stage wins along the way, it has been a triumphant tour for Team Sky, with Mark Cavendish's sprint victory on the final stage into Paris the icing on a very large cake.
Reflecting on those achievements, Brailsford said: "I'm very proud. It's quite emotional. When I got into cycling, nobody else knew about it, but to see all those British flags on the roadside in Paris was phenomenal and I want to thank everybody for coming and thanks for all the support around the world.
"It's been an amazing Tour for us. Bradley has had an amazing race and demonstrated he was the best rider in it by finishing with a time trial like that on Saturday.
"We're very lucky to have both Chris and Brad on the same team. This was a Tour that suited Bradley. He's climbing really well, his time trialling's been off the scale and now I think you can see why we stuck with him."
Sticking to the plan
Brailsford also stressed how smoothly everything had gone throughout the race as a whole, adding: "It's a lot easier to manage two good riders than two bad ones and I've said it before - and I'll say it again - a team of stars does not make a star team.
"As long as we're honest with people and tell it how it is, let everybody know what the situation is and not be scared of talking things through and being very clear - as long as that's okay then everything else will be fine.
"It's good to have two British guys who can perform at the highest level in the world in a sport that traditionally we've not been that good at.
"I couldn't be prouder to have worked with both Bradley and Chris. For Bradley to have won this race, as a British rider - which has never been done before - with a British team with a fantastic British sponsor, it's the stuff of dreams."
Ticking the boxes
Team Sky were launched at the start of 2010 and had a stated aim of winning the Tour de France with a British rider within five years.
Brailsford added: "I'd never have said that we could do it unless I really believed that we could. A lot of people laughed when we said that we could win this race in five years with a clean British rider. But we were serious about it, we'd done our homework, we knew what Bradley was capable of and what a British team would be capable of - and we set about it.
"From a team perspective we'd like to build on this and I'd like to think this is not just a one-off. The staff and riders should take time and reflect a little bit now but we're building a team for the future here which we want to keep on progressing and coming back to this race to do it all again."
Brailsford hasn't allowed himself any time for immediate reflection though, with the Olympic Games now less than a week away his thoughts have already turned to London and he is confident his track and road athletes can achieve similar success there.
"I can't allow this achievement to sink in yet. I'm flying straight out of Paris and into the Great Britain training camp in Newport to prepare for the Olympic Games. My thoughts turned to that almost as soon as Brad had stepped off the podium. As I said, everyone else should savour the moment but I can't wait to get into that Olympic arena now with a British team and show the whole world what we're made of. "
Aiming to inspire
Cycling's popularity in the UK has grown massively during the last three weeks and Wiggins' success should accelerate that further, with the aim of getting an additional one million Britons riding regularly by the end of 2013.
"That's part of the deal - we're trying to get more people and more kids involved in cycling," said Brailsford. "Build the base of the pyramid, encourage participation and make the sport a bit more mainstream than maybe it had been in the past.
"I'd like to think that we've done our little bit to promote that. Bradley has given the people of Britain something to be proud about and it's a very special moment for fans all over the country."
Inspired to get on your bike by Bradley Wiggins and Team Sky at the Tour de France? Then visit www.goskyride.com for rides for all ages and abilities.