'Wiggo' hits the headlines
We take a look at how Bradley Wiggins' Tour de France victory has been covered in the UK press.
Last Updated: 23/07/12 11:40am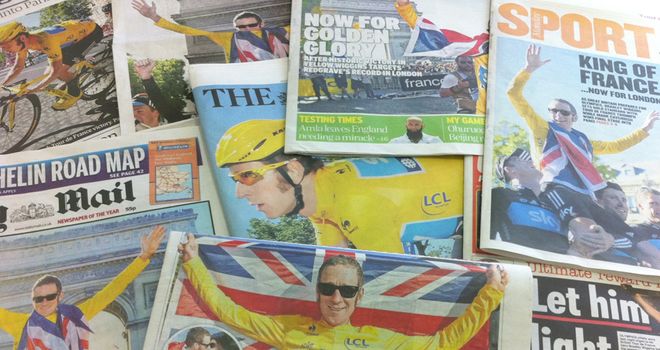 What the papers say about Wiggins' achievement
Bradley Wiggins's success at the Tour de France has received unprecedented coverage back home in the British press, and here we take a look at the reaction as journalists try to put his achievements into context:
THE TIMES:
"The first British winner of the Tour de France in the 109 years of the race is far happier just been a normal bloke. We wish him luck in that because it may be hard. He is for ever a history maker, a ground-breaker, the first Briton to ride up the Champs-Elysees wearing yellow.
"He had an outrageous dream and it was a complete pleasure watching him make it come true."
From 'Kilburn to the Champs-Elysees' (Owen Slot)
THE TELEGRAPH:
"It was all quite surreal. Never has there been an attack of Les Rosbifs quite like it. Thousands had piled across on Eurostar, boats and planes for the weekend, hooked by a new cult hero for British sport.
"One who even the French had learnt to appreciate. L'Equipe, the French sports newspaper, had already christened him as 'Wiggo le Froggy', naturally taking a bit of credit for his victory by noting how he had cut his teeth in professional road cycling over here. They were also particularly admiring of his marvellous rouflaquettes — 'The most famous sideburns since Elvis Presley'."
From 'Wiggins keeps focus after Tour triumph is sealed' (Ian Chadband)
THE INDEPENDENT:
"Until now, all talk of Britain and the Tour de France has eventually come back to the tragic death of Tom Simpson in 1967. Not least the joys of Wiggins' triumph is that finally that episode can be relegated, if not to a footnote then at least to a lesser role in the annals. With Bradley Wiggins - no doubt Sir Bradley before too long - a slice of British sporting history has been written that simply glows from the page.
"To be great is great, but to be first - well, that's something else. British cycling has its Edmund Hillary, its Roger Bannister, its Neil Armstrong. Brad, we salute you."
From 'A British cyclist winning the Tour. How is this possible?' (Simon O'Hagan)
THE GUARDIAN:
"Until very recently, for Britain to sweep to glory in the Tour seemed as unlikely as the French winning the Ashes."
From 'Allez Wiggo: French fans are won over' (Amelia Hill)
DAILY MAIL:
"'Fire away. Love me to bits'. As those words fell from the mouth of Bradley Wiggins, the glint in his eye betrayed a relish of the life to come.
"Not a life on talk shows or at celebrity parties, although his name will already have been written on many invitations. Rather a life as a role model, an inspiration, a sporting idol, the sideburns and the Tour de France yellow jersey plastered on the bedroom walls of teenage cyclists across Britain."
From 'It's nice to think I'm an inspiration' (Ivan Speck)
DAILY MIRROR:
"Something else is worth remembering here. Until relatively recently cycling was regarded as a niche sport, a little geeky, certainly unfashionable.
"But it has undergone a remarkable transformation in the last 10 years, starting with the triumphs of Olympians such as Sir Chris Hoy, Wiggins and Victoria Pendleton.
"Their successes have renewed interest in the sport and seen participation numbers in Britain rocket. It is not niche any more. It is mainstream.
From 'Wheel Britannia' (Oliver Holt)
"It is enough to say that what Bradley Wiggins did in the last few weeks will stand with the greatest things a British sportsman has ever achieved.
"He is in the pantheon now with the rest of our sporting greats."
From 'He joins our pantheon of sport greats' (Oliver Holt)
DAILY STAR:
"Olympic chiefs were last night urged to reward Bradley Wiggins for winning the Tour de France by letting him light the Olympic cauldron."
From 'Wiggo's our flaming hero' (Marc Walker)
SUNDAY TIMES:
"Since taking the yellow jersey on stage seven and opening up an unbridgeable gap on the rest of the field on the first time trial stage two days later, Wiggins has ruthlessly exploited the weakness of his rivals and the meticulous attention to detail of his team.
"In adding the Tour to his three gold medals on the track, the 32-year-old Londoner has also re-written more than just domestic cycling history. No Olympic track medallist has ever won the Tour.
"Wiggins has not just won the Tour, he and Team Sky have revolutionised the approach to a race which will celebrate its centenary a year from now.
"No other team has approached the Tour so clinically […] and if the press in France have bemoaned the sight of the yellow jersey tucked happily into the slip stream of two team-mates day after day, they have acknowledged the methodical brilliance with which [Team] Sky's strategy has been carried out on the road."
From 'Time Lord Powers To Glory' (Andrew Longmore)
"Wiggins is perhaps the most versatile Tour winner in the race's history. Other riders were good on the track […] but none were successful is disciplines as varied as the Individual Pursuit and the Tour."
From 'Is Wiggins the greatest ever?' (Lionel Birnie)
SUNDAY EXPRESS:
"Wiggins's success at the 99th Tour makes him a rare master at marathon races and sprint time trials."
From 'Wiggo's a Winner' (Natalie Chalk)
"His Tour de France victory means Britain has broken through road-racing's hardest and most resistant glass ceiling, the ultimate achievement in the sport.
"For Team Sky to claim first and second overall – the first team to do so in 16 years – underlines just how huge their domination has been."
From Lion Becomes a Legend (Alasdair Fotheringham)
SUNDAY PEOPLE:
"It's up there with Wembley 1966 and maybe even Agincourt in 1415.
"The past three weeks have been character-defining and Wiggins will now be viewed as a hero not only at home, but across the world.
"Wiggins has become a role model and shown a nation you can reach the top through tenacity, belief and skill.
"Let's kick Wayne Rooney out of the way. Volley Andy Murray to one side. And put the Olympic party on hold. This summer belongs to Bradley Wiggins."
From 'They think it's Gaul over…' (Dean Jones)
THE OBSERVER:
"Britain has a new, and very human, sporting hero."
From King of the Road (Richard Williams)
"Since Wiggins has been in the yellow jersey it has been a faultless performance from the [Team] Sky machine.
"He [Wiggins] is the one who has absorbed all the pressures and commitments of being the race leader and he's done that brilliantly, every day, and on every occasion."
From 'Every day on every occasion, he's been brilliant' (Robert Millar)
"Team Sky have looked totally confident at the front of the bunch defending the yellow jersey – for the longest period any team have led the race since 1981."
From 'Magic Circle Turns Wiggins into a Winner' (William Fotheringham)
Inspired to get on your bike by Bradley Wiggins and Team Sky at the Tour de France? Then visit www.goskyride.com for rides for all ages and abilities.