Wiggins wants to inspire
Bradley Wiggins hopes his Tour win can inspire a new generation of cyclists to follow his lead.
By Nick Howes
Last Updated: 22/07/12 5:36pm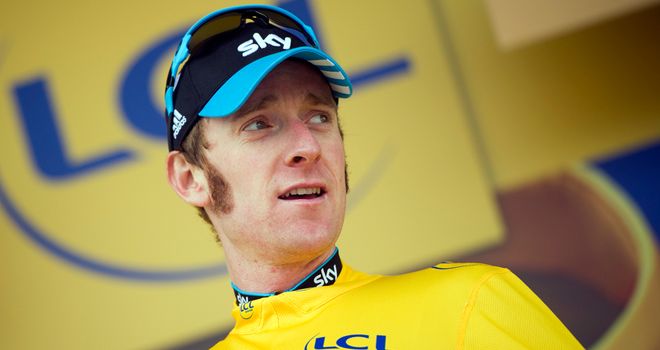 Now that Bradley Wiggins has achieved his lifetime ambition of winning the Tour de France, he hopes his performance can inspire a new generation of cyclists to follow his lead.
Ever since the launch of the team, Wiggins has been a keen advocate of Team Sky's founding principal to "inspire people of all ages and abilities to get on their bikes", and has led by example over the last three years as he has worked tirelessly to become the world's best cyclist.
Winning the Tour de France was a dream the 32-year-old Londoner never thought would come true, but now that it has, he insists it is possible for anyone to do the same.
"I've watched the Tour since I was a kid, and all through the Miguel Indurain years (Indurain won the Tour five times between 1991-95) I imagined what winning the Tour would be like, but I never really believed it would happen," he said.
"Because of that, I realise what I've accomplished, but that doesn't make it any easier to sink in. Cycling is an inspirational sport and when I watched Cadel [Evans] win the Tour in the Grenoble time trial last year I was absolutely inspired by him. Seeing what he was going through and how happy he looked made me feel like a kid again and I watched him on TV before getting on the turbo that night. If my win inspires somebody else to do that, then that will be incredible."
Long journey
Wiggins's rise from wide-eyed child to Tour de France winner has been a long and linear one, and the man himself admits he could never have done it without the support of countless people behind the scenes.
"It's been an incredible journey," he added. "Right since my first junior World Championships win in 1997 – and all the way through the British Cycling programme. Guys like Shane Sutton and Dave Brailsford have seen me grow and go through a lot. My family as well. They've had to live with me through all this, so to have done this for them, and so many others, is just fantastic.
"You need something to aspire to in life, and this is what I've been aiming towards since the start. This is the pinnacle – the bonheur (happiest moment) of my sporting career.
"There haven't been a lot of Tour winners. In my lifetime there have only been about 15 or so. It's a very special list to be on. And being the first Brit – to exceed people like Robert Millar and Tom Simpson – I still don't see myself up there with those names because when I was growing up you never ever imagined I'd be better than them – they were cult heroes.
"I'm no different from anyone else though. To be on there on the same list as Bernard Hinault and Eddy Merckx, and to have won Paris-Nice, the Tour de Romandie and Criterium du Dauphine in the same season, is quite something."
Feet on the ground
For all the adulation that will now come Wiggins's way, he insists his feet will remain firmly on the ground and he won't be tempted by the trappings of fame.
"I'm determined this success won't change me," he asserted. "I'm not into celebrity life and my home life is incredibly grounded.
"The most incredible thing for me is to get recognition and respect from my fellow sportsmen. To hear someone like Chris Hoy saying this Tour win is up there with the great sporting achievements of all time hasn't sunk in yet. It's humbling and it blows you away because you never imagine people saying those will be you. It's brilliant"
Inspired to get on your bike by Bradley Wiggins and Team Sky at the Tour de France? Then visit www.goskyride.com for rides for all ages and abilities.