Tributes for Wiggins pour in
Tributes from Prime Minister David Cameron and many others have come pouring in to mark Bradley Wiggins' historic achievement.
Last Updated: 23/07/12 2:56pm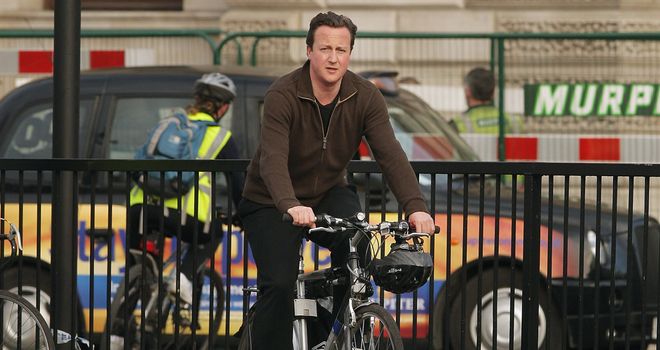 Tributes have come flooding in since Bradley Wiggins wrapped up Team Sky's first Tour de France title on Sunday and here we share some the some of the most memorable.
Prime Minister David Cameron:
"Like everyone in the country I am absolutely delighted. Bradley Wiggins has scaled one of the great heights of British sporting achievement. To be the first British person in 109 years to win the Tour de France is an amazing feat of physical and mental ability and aptitude and I think the whole country wants to say well done and brilliant.
"Bradley and the whole team's great success - I watched Mark Cavendish's great sprint finish as well - that whole team performance will lift the spirits of the country."
Four-time Olympic gold medallist Sir Chris Hoy:
"I can't think of any British sportsperson who could say that they've achieved more for a single sporting achievement.
"I don't think you can match that, it's just phenomenal.
"So many things could go wrong along the way - for three weeks to be at that level and dominate it the way he did is something all of Britain should be proud of."
Double Olympic silver medallist Steve Backley:
"People may forget that Bradley is already an incredible Olympian with six medals, including three golds. That already makes him a British sporting legend in my book but now he's gone and done this. This has to be one of the greatest British sports achievements of all time."
Five-time Olympian Mark Foster:
"Bradley's achieved a first for Britain in almost 100 editions in arguably the most gruelling challenge of the lot. It proves what a great physical specimen he is. I place this achievement right up there with the four-minute mile and the 1966 World Cup."
Winner of 13 Formula 1 Grands Prix David Coulthard:
"Bradley must have Scottish roots because no Englishman could sustain so much pain. I go out cycling with proriders in the hills around Monaco and even there I'm impressed with their endurance. He makes us F1 drivers look like wimps in comparison.
England Rugby Union World Cup-winning captain Lawrence Dallaglio OBE:
I spent a few days cycling across the Pyrenees in 2008 and this summer across the Alps. It makes me respect his achievement even more. He's dominated it from start to finish and conducted himself impeccably. This is up there with 1966 and us winning the World Cup in 2003."
The Mayor of London Boris Johnson:
"Huge congratulations must go to Bradley Wiggins. His incredible determination, focus and will to win blew away the rest of the field and propelled this legendary Londoner to the summit of his sport. His inspirational performances, ably supported by his fellow Team Sky riders including Brits Chris Froome and Mark Cavendish, will encourage thousands more people to take to two wheels."
Sport and Olympics Minister Hugh Robertson:
"Bradley Wiggins' triumph goes down as one of the great achievements in British sporting history. It is a superb feat of endurance, skill and sporting excellence and he has been backed by an outstanding team. I congratulate him, his fellow riders, Dave Brailsford and everyone at Team Sky who have worked so hard to bring about this first ever British win."
Team Sky chairman Robert Tansey:
"We have a very strong set up and squad. Our team loves riding for each other and they'll want to come back and do this again next year. We view this as the start rather than the end of something and the hunger is definitely there to repeat it.
"When we launched three years ago our ambition was to win the Tour de France with a British rider in five years. A lot of people were sceptical of that so to do it in three years is a tremendous achievement.
"This is a great British story and less than a week away from the Olympics this will inevitably give the Team GB cycling squad a lift."
British Cycling president Brian Cookson:
"To see a British rider and a fellow member of British Cycling win is a dream come true for me and all at British Cycling. This is a monumental day for sport in the UK - Great Britain has produced in Bradley Wiggins a rider who has won one of the world's biggest sporting challenges and everyone involved in cycling in this country must be immensely proud of that.
"Team Sky's success today highlights how cycling is now a mainstream sport, and Great Britain is the world leading nation."
Inspired to get on your bike by Bradley Wiggins, Mark Cavendish and Team Sky at the Tour de France? Then visit www.goskyride.com for rides for all ages and abilities.