Wiggins - I'll always love cycling
Life may have changed for Bradley Wiggins after his Tour de France triumph, but a love of cycling remains his main motivation.
Last Updated: 23/07/12 6:47pm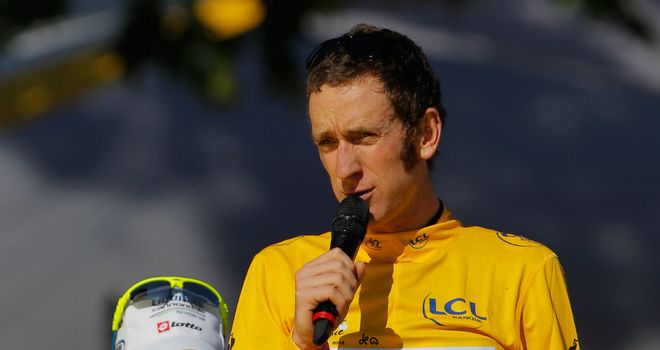 Life has changed for Team Sky's Bradley Wiggins, the first British Tour de France champion, but a love of cycling remains his main motivation.
Wiggins returned home to Chorley after 13 days in the yellow jersey and becoming the first British winner to top the Tour podium.
The 32-year-old was planning some respite, riding around the lanes of Lancashire, before refocusing on the Olympic Games.
He said: "It will be nice to ride along with a bit of peace and quiet, enjoying riding the bike without all these idiots on motorbikes taking photos of you.
"I love cycling. I'll always be riding my bike. I come from a cycling family.
"I'll probably be there in 20 years' time marshalling on the corner somewhere for a local 10km (time-trial).
"I'll still be in a cycling club. It's pretty embedded."
Change of focus
For the rest of his days Wiggins will be asked to recall the 99th Tour, the period from June 30 in Liege to July 22 on the Champs-Elysees when he became the first Briton to triumph in the sport's most fabled race.
But Wiggins' appetite for victory remains and he will aim to help Mark Cavendish win the London 2012 Olympic road race on Saturday's opening day before seeking personal success in the Hampton Court time-trial on day five of the Games.
He said: "I'm loving what I'm doing at the moment. I'm in my element on days like this.
"I love that whole process of going out, warming up, getting in the zone, out there flying along the road.
"That's what I love doing. It's how I've ridden all year. I could have switched off after Paris-Nice (in March).
"But you forget about it, move on to the next thing."
One day at a time
A day-by-day approach has served Wiggins, a three-time Olympic champion and six-time medallist, well and he has matured to become a leader of men.
"It's something that comes from within," he added.
"It's probably what makes you a good athlete, that mental strength.
"It's age as well. I couldn't have done it eight, nine years ago.
"As I'm getting older, you want more out of yourself. Turn the screw a bit more."
Team Sky principal Dave Brailsford is always demanding more.
After achieving Team Sky's stated aim of winning the Tour within five years two years ahead of schedule, Brailsford is eager for further success.
Brailsford believes Wiggins can, and will, get better.
Wiggins has been in the British Cycling set-up since the age of 18, when he became the first rider to benefit from the Lottery funding which has helped to create a dynasty.
More to come
Brailsford, in his role as British Cycling performance director, as well as at Team Sky, has been key in Wiggins' progression.
"When guys win first gold medals there always tends to be a dip (in performance)," Brailsford said.
"He can still get better. It's down to Bradley's desire and commitment which will be within.
"If he stays intrinsically driven towards doing the Tour there is no reason why not because physically he can do it again.
"It's more about his desire. I will put money on it that he will stay as focused and driven as he is."
Inspired to get on your bike by Bradley Wiggins, Mark Cavendish and Team Sky at the Tour de France? Then visit www.goskyride.com for rides for all ages and abilities.(re-opens) Speaking near his home, Wiggins said he was having a couple of days with his family before joining up with the rest of the Olympic cycling team on Wednesday.
He told BBC News Channel the amount of media coverage cycling is now getting is "incredible".
"It is very strange to see cycling is so mainstream now, it is amazing," he told the broadcaster.
"We have just been in Wigan, a big rugby league town, it's a massive sport.
"For cycling to have crossed over into something in a town where it has only ever been rugby league and seen the attention it is getting there, it is brilliant."