Brailsford hails 'star team'
Dave Brailsford stressed the importance of teamwork as he reflected on Team Sky's Tour de France heroics.
Last Updated: 23/07/12 5:50pm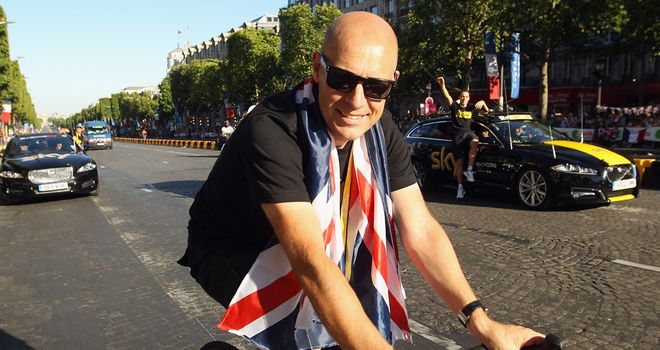 Dave Brailsford stressed the importance of teamwork as he reflected on Team Sky's Tour de France heroics.
It was Bradley Wiggins who rightly made most of the headlines on Monday as the first British winner of cycling's biggest event but the Team Principal was quick to underline the importance of the men around him.
Brailsford told Sky Sports News HD:: "We recognise the importance of the team – it's individual guys but with specific roles. We allowed them to train and race as a group and unit to build that camaraderie, togetherness and self-belief. I think that's been a real cornerstone of the success this year.
"Confidence was high and the team was in great shape going into the race but you can never be 100% sure but it played out fantastically well."
When asked about the process which turned Wiggins into a Tour de France winner he added: "An awful lot of planning went into Bradley's training – we first looked at what was required and then planned how we were going to get to that point.
Hard work
"But whilst we use a lot of sports science there's no getting away from the fact that it takes an awful lot of hard work so credit to Bradley and the rest of the guys – the amount they've put in over the last couple of years to get to this level is absolutely tremendous. I think that's the secret."
Looking to the future Brailsford and Team Sky are in the envious position of also having the likes of runner-up Chris Froome and world champion Mark Cavendish in their Tour line-up but that also poses a challenge in accommodating all their ambitions.
Of Cavendish, winner of the final stage on the Champs-Elysees for the fourth year running and now up to fourth on the all-time list with 23 Tour stage wins, Brailsford explained: "We're privileged to have him, he's a great champion and we hope he's with us for very many years to come.
"We do have a very talented bunch of guys – but a team of stars isn't always a star team. That's key for us, we have a star team.
"Everything has got to be aligned towards the team goal and this time that was trying to help Bradley win yellow.
"When we get to the end of the season we'll take stock of everything. We need to see the course for the 2013 race before we can formulate a strategy for next year. Then we'll make some decisions."
Inspired to get on your bike by Bradley Wiggins, Mark Cavendish and Team Sky at the Tour de France? Then visit www.goskyride.com for rides for all ages and abilities.