Houvenaghel back in action
Wendy Houvenaghel will represent Great Britain at the UCI Road World Championships in Holland.
Last Updated: 18/09/12 1:58pm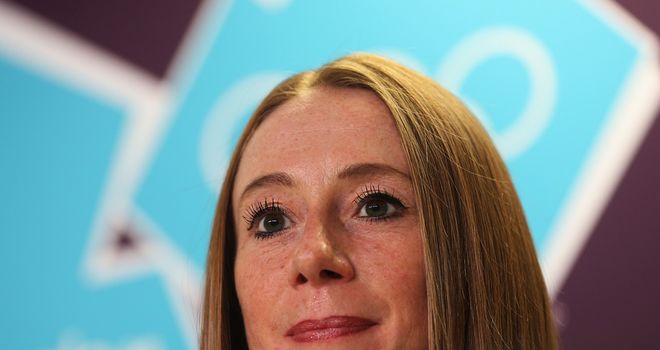 Wendy Houvenaghel will represent Great Britain at the UCI Road World Championships in Holland, little more than a month after leaving the Olympics distraught.
The 37-year-old from Northern Ireland was not selected for any of the three rides in the women's team pursuit competition, won by Joanna Rowsell, Laura Trott and Dani King, therefore missing out on a gold medal, and labelled the decision "vindictive".
Houvenaghel refocused and won the British Championships road time-trial earlier this month before a win in the prestigious Chrono Champenois event in Betheny, France last week confirmed her selection alongside Emma Pooley in the 24.3-kilometre time-trial in Limburg.
She was reluctant to discuss the Olympic fall-out and thanked British Cycling's women's road coach Chris Newton for supporting her selection.
"I was pleasantly surprised to get the call to represent Great Britain in the time-trial at these World Championships," Houvenaghel said.
"I've spent most of the year training for a three-minute team pursuit effort and over the last four weeks I've just applied myself to time-trialling. I'm keen to get racing tomorrow.
New objective
"I've just thrown myself into my training the last few weeks and here I am in Valkenburg.
"The time has passed quite quickly since the Games and I've been busy focusing on various races. I haven't been in touch with any of the members of staff.
"I'm just focusing on my own race and that's my priority while I'm out here."
Despite her whole focus being on 12 laps of a 250m Siberian pine track, Houvenaghel is confident of springing a surprise in Tuesday's race, which takes place near Maastricht.
"I am optimistic, otherwise I wouldn't be here," she added.
"I will give it everything I've got and I'll just do my best and see where my performance takes me. The course is very rolling and there are a couple of quite steep climbs.
"I am good at climbing; in any of the time-trials where there have been hills I've done very well. That shouldn't pose too much of a problem for me.
"I've done my homework and I'm happy that I can do reasonably well. The course suits my strengths as a rider and I'll give it everything I've got."
Medal prospect
Pooley won the world title in 2010 and is also aiming to bounce back from Olympic disappointment.
The 29-year-old was in tears after missing out on a podium place in the Hampton Court time-trial on August 1, but the terrain in Holland is more suited to her climbing ability.
"Emma will be really excited about the nature of this course," Houvenaghel added.
"She's a well-known good climber and I think she is looking forward to the challenge tomorrow as well."
Pooley has spoken of possibly taking a break from cycling to complete her PhD, while the future for Houvenaghel also remains uncertain.
She plans to spend some time with her family after the World Championships and will assess whether the Olympics in Rio de Janeiro in 2016 are an option. It is understood the women's team pursuit may be increased to become an event over 4km with four riders.
"I'm keeping my options open at the moment," Houvenaghel said.