Pooley - I'm not done yet
Emma Pooley believes she has "unfinished business" in professional cycling despite contemplating taking an extended break to finish her PhD.
Last Updated: 20/09/12 7:36pm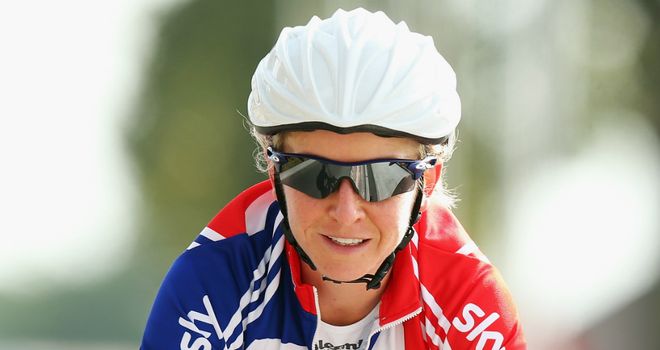 Emma Pooley believes she has "unfinished business" in professional cycling despite contemplating taking an extended break.
The 29-year-old Briton finished fourth in Tuesday's UCI Road World Championships time-trial and was sixth in the Olympic Games time-trial.
Pooley, who won the world title in 2010 and Olympic silver in 2008, has become disillusioned with the inequality in the sport, with her AA Drink-leontien.nl team set to disband at the end of the season due to a lack of financial backing.
After Saturday's World Championships road race in Limburg, her focus will turn to finishing her PhD in geotechnical engineering, which she began in 2005 but has been ignored for cycling in recent years.
But Pooley, who will forgo her usual winter training camp in Australia to write the remainder of her thesis, is not planning on leaving the sport behind for good.
Stressful
"I think I need a bit of a break," said Pooley. "Even if I took a year off I'd like to come back. I do feel like there's unfinished business.
"I love cycling, so I doubt I could stay away from racing."
Pooley has had offers for next season, but has grown weary of the switching teams and is optimistic of an improvement in the sport.
"If there were a more stable environment it would be more attractive, but my decision about what to do next year will be a personal one," she said.
"It's a stressful situation to be in as a rider, pretty much every year looking for a new team or worrying about your team not continuing."
Tour de France winner Bradley Wiggins has suggested he would be prepared to invest in women's cycling, but it is unlikely he will have the opportunity to do so while he is still competing himself.
"The great thing about him saying that is that he gets listened to, because he's won the Tour de France," Pooley said.
"He's already a hero and frankly even by saying that it's really good for us. He's even more of a hero in my opinion.
"A lot of people, even within the UCI, are really pro women's cycling and are trying to do something.
"It just seems to take a lot of time and a lot of money to get things moving."
Change
Pooley is to line up in the British team alongside Nicole Cooke on Saturday.
Beijing Olympic road race champion Cooke, who won the world title in 2008, will also take time to consider her options at the end of the current season.
Cooke also hopes for improvements in the organisation of women's cycling.
The Welsh rider said: "I just hope sooner rather than later things can change in women's cycling so it becomes the full package in terms of the media attention, the teams, the race calendar.
"Everything we know is possible, it's just trying to get everything together to actually make it happen."
Cooke believes there can be a similar synergy between men's and women's cycling as in tennis.
She added: "They have the grand slams together and their own tournaments outside of that. You could have the main structure alongside the men's.
"It wouldn't take long at all for women's cycling to take off and become the world sport we know it is. It's just a case of getting the whole package together."