USADA release damning report on Lance Armstrong
USADA has accused Lance Armstrong's US Postal Service team of running a "sophisticated doping programme".
Last Updated: 11/10/12 8:10am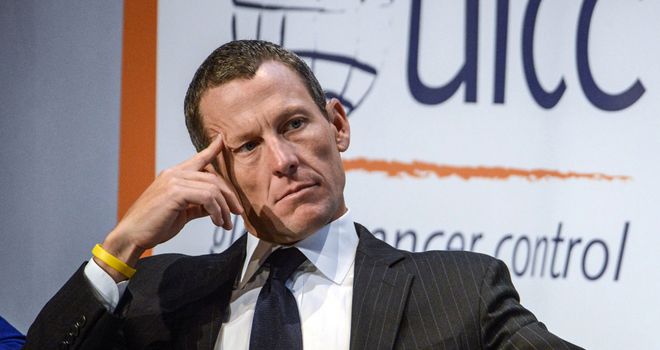 USADA released its report on the case against the seven-time Tour de France winner and his team on Wednesday.
The report, which runs to more than 1,000 pages and includes the sworn testimony of 26 people, including 15 riders of whom 11 were former team-mates of Armstrong, was sent to the International Cycling Union and the World Anti-Doping Agency.
A USADA statement from chief executive Travis Tygart read: "The evidence shows beyond any doubt that the US Postal Service Pro Cycling Team ran the most sophisticated, professionalised and successful doping programme that sport has ever seen.
"The evidence also includes direct documentary evidence including financial payments, emails, scientific data and laboratory test results that further prove the use, possession and distribution of performance enhancing drugs by Lance Armstrong."
The statement adds that their report confirms "the disappointing truth about the deceptive activities of the USPS Team, a team that received tens of millions of American taxpayer dollars in funding."
USADA banned Armstrong for life in August after he announced he would not contest the charges levelled against him.
The Texan, 41, has denied cheating and never failed a drugs test during his career.
Armstrong's attorney, Tim Herman, called the report "a one-sided hatchet job, a taxpayer funded tabloid piece rehashing old, disproved, unreliable allegations based largely on axe-grinders, serial perjurers, coerced testimony, sweetheart deals and threat-induced stories."
Among the former team-mates who gave evidence were Tyler Hamilton and Floyd Landis, added to the likes of Frankie Andreu, Michael Barry, Tom Danielson, George Hincapie, Levi Leipheimer and Christian Vande Velde.
Tygart praised those riders involved in the "doping conspiracy" for having "tremendous courage" to come forward and "stop perpetuating the sporting fraud".
Legacy
He said: "I have personally talked with and heard these athletes' stories and firmly believe that, collectively, these athletes, if forgiven and embraced, have a chance to leave a legacy far greater for the good of the sport than anything they ever did on a bike.
"Lance Armstrong was given the same opportunity to come forward and be part of the solution. He rejected it.
"Instead he exercised his legal right not to contest the evidence and knowingly accepted the imposition of a ban from recognised competition for life and disqualification of his competitive results from 1998 forward."
The USADA chief also called on the International Cycling Union (UCI) to "act on its own recent suggestion for a meaningful Truth and Reconciliation programme".
He said such a scheme might be the only way the sport can "unshackle itself from the past".
Tygart added: "We have heard from many athletes who have faced an unfair dilemma - dope, or don't compete at the highest levels of the sport. Many of them abandoned their dreams and left sport because they refused to endanger their health and participate in doping. That is a tragic choice no athlete should have to make."
USADA confirmed two other members of the USPS team, Dr Michele Ferrari and Dr Garcia del Moral, also received lifetime bans for their part in the doping conspiracy.
Three further members, team director Johan Bruyneel, a team doctor Dr Pedro Celaya and team trainer Jose Marti have chosen to contest the charges and take their cases to arbitration.