Six of Lance Armstrong's former team-mates have admitted doping
Six of Lance Armstrong's former US Postal Service team-mates have admitted to using performance enhancing drugs.
Last Updated: 11/10/12 3:38pm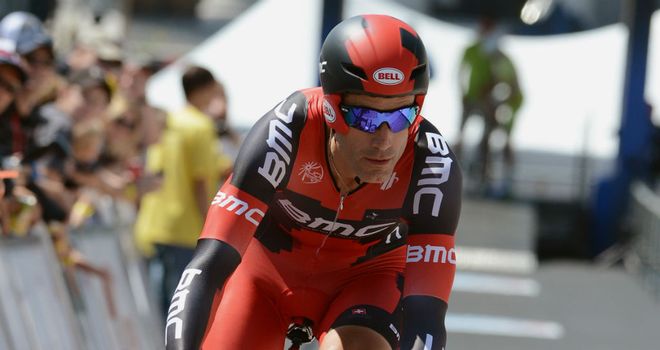 George Hincapie, who rode alongside Armstrong on each of his seven Tour de France wins, Michael Barry, Christian Vande Velde, Levi Leipheimer, David Zabriskie and Tom Danielson have all released statements admitting their guilt.
All six have been banned for six months by the US Anti-doping Agency (USADA).
American Hincapie, 39, was at the USPS team for 10 years from 1997 to 2007 and claimed he had ridden clean for the last six years before retiring in August.
Hincapie said: "Because of my love for the sport, the contributions I feel I have made to it, and the amount the sport of cycling has given to me over the years, it is extremely difficult to acknowledge that during a part of my career I used banned substances.
"I deeply regret that choice and sincerely apologise to my family, team-mates and fans. Quietly, and in the way I know best, I have been trying to rectify that decision."
Canadian Barry rode for USPS between 2002 and 2006 and said he never doped again after he left the team and, after spending the last two years at Team Sky, he will also retire at the end of this season.
Barry said: "After being encouraged by the team, pressured to perform and pushed to my physical limits I crossed a line I promised myself and others I would not: I doped.
"It was a decision I deeply regret. It caused me sleepless nights, took the fun out of cycling and racing, and tainted the success I achieved at the time. This was not how I wanted to live or race.
"I apologise to those I deceived. I will accept my suspension and any other consequences. I will work hard to regain people's trust."
American Vande Velde was with USPS from 1998 to 2003 and now rides for Garmin-Sharp.
Vande Velde said: "As a young pro rider I competed drug free, not winning, but holding my own and achieving decent results.
"Then, one day, I was presented with a choice that to me, at the time, seemed like the only way to continue to follow my dream at the highest level of the sport. I gave in and crossed the line, a decision that I deeply regret."
Danielson and Zabriskie also currently ride for Garmin-Sharp while Leipheimer, who has finished on the podium of the Tour de France and Vuelta a Espana, is a member of the Omega Pharma-Quickstep outfit. Leipheimer claims to have ridden clean for the last five years.
Allegations against Bruyneel
USADA also made alarming allegations over Johan Bruyneel, whom Armstrong helped bring to the US Postal Service team as team director in 1999.
The Belgian - who along with Dr Pedro Celaya and Jose Marti has chosen to contest the charges at arbitration - is currently in charge of the RadioShack-Nissan team.
The decision said: "The overwhelming evidence in this case is that Johan Bruyneel was intimately involved in all significant details of the US Postal team's doping programme. He alerted the team to the likely presence of testers.
"Most perniciously, Johan Bruyneel learned how to introduce young men to performance enhancing drugs, becoming adept at leading them down the path from newly minted professional rider to veteran drug user."
USADA revealed riders claimed Bruyneel appeared to have "inside information" about the testing.
Zabriskie told them; "His warning that 'they're coming tomorrow' came on more than one occasion."
Meanwhile, cycling's world governing body, the International Cycling Union (UCI), released a brief statement in response to USADA's decision.
It read: "The UCI will examine all information received in order to consider issues of appeal and recognition, jurisdiction and statute of limitation, within the term of appeal of 21 days, as required by the World Anti-Doping Code.
"The UCI will endeavour to provide a timely response and not to delay matters any longer than necessary."